Changing cityscapes and the process of contemporary gentrification: The study of the transformation of a socially excluded area in Brno, the Czech Republic
Słowa kluczowe:
sociální vyloučení, gentrifikace, Brno, Romové, integrace, nevládní organizace, přístup zaměřený na aktéra
Abstrakt
Hlavním cílem příspěvku je objasnit a vysvětlit probíhající proces gentrifikace ve vyloučené oblasti ulic Bratislavská - Cejl v Brně. Jedná se o specifickou studii popisující obecně proces gentrifikace na základě konkrétního případu. Závěry této studie vycházejí z dlouhodobého terénního průzkumu provedeného v letech 2008 až 2012 formou pravidelných návštěv této oblasti Brna. Od roku 2012 je výzkum prováděn formou zúčastněného pozorování lokality a dlouhodobého pobytu autorky v této oblasti. Výzkum a následná analýza jsou založeny na "přístupu zaměřeného na aktéra".
Pobrania
Dane pobrania nie są jeszcze dostepne
Bibliografia
Bittnerová D., Moravcová M. 2011, Integrace – identita [in:] Bittnerová B., Moravcová, M. (ed.) Etnické komunity, integrace, identita, FHS UK, Praha, pp. 9-15.
Bonner A. 2006, Social Exclusion and the Way Out: An Individual and Community Response to Human Social Dysfunction, Wiley-Blackwell, London.
Burjanek A. 1997, Segregace, "Sociologický časopis", Vol. 33 (1997), pp.38-52.
Constant A.F., Zimmermann K.F. 2011, Migration, Ethnicity and Economic Integration (December 2009) [in:] Jovanovic, M. N. (ed.), International Handbook on the Economics of Integration, Edward Elgar Publishing, Cheltenham, pp. 145 – 168.
Creswell J.W. 2007, Qualitative inquiry and research design: Choosing among qualitative approaches, Thousand Oaks, CA: Sage.
Dahrendorf R. 1988, The Modern Social Conflict: An Essay on the Politics of Liberty, George Weidenfeld and Nicolson, London.
Finney N., Simpson L. 2009, Sleepwalking to Segregation?: Challenging Myths About Race and Migration, The Policy Press, London.
Glass R. 1964, London: aspects of change, "Centre for Urban Studies" No. 3, MacGibbon & Kee, London, pp 342.
Hamnett C. 2003, Gentrification and the Middle-class Remaking of Inner London, 1961 – 2001, "Urban Studies" Vol. 40, No. 12, pp. 2401 – 2426.
Holzner B., 1967, The Concept "Integration" in Sociological Theory, "The Sociological Quarterly", Vol. 8, pp. 51–62.
Lees L., 2008, Gentrification and social mixing: towards an inclusive urban renaissance?, "Urban Studies", Vol. 45, No.12, pp. 2449–2470.
Lees L.; Slater, T.; Wyly E. 2008, Gentrification, Routledge, New York.
Ley D. 1986, Alternative explanations for inner-city gentrification, "Annals of the Association of American Geographers" Vol. 76, pp. 521 – 535.
Maloutas T. 2011, Contextual Diversity in Gentrification Research, "Critical Sociology", Vol. 38, No. 1, pp. 33-48.
Marcuse P. 1997, The Ghetto of Exclusion and the Fortified Enclave: New Patterns in the United States, "American Behavioral Scientist", special issue, "The New Spatial Order of Cities", Vol. 41, No.3, pp. 311-326.
Ogbu J. U. 2003, Black American Students in an Affluent Suburb. A Study Academic Disengagement, Mahwah: LEA.
Pospíšilová J., Brožovičová K. 2015, Dělnický dům a proměny sociálně vyloučené oblasti. Případová studie lokality Brno-Cejl. "Journal of Urban Ethnology", Vol. 13, p. 157-177.
Pospíšilová J., Poláková J., Brožovičová K. 2015, National Minorities in Brno. The Cultural Heritage of Roma in Excluded Locations. "Journal of Ethnology", Vol 25, No. 5, p. 18-34.
Regelmann A. 2009, Political Community, Political Institutions and Minority Politics in Slovakia, 1998-2006 [in:] Agarin, T and Brosig, M (ed.) Minority Integration in Central Eastern Europe: Between Ethnic Diversity and Equality, Rodopi, Amsterdam/New York, pp. 175-198.
Silver H., Miller, S.M. 2003, Social Exclusion: The European Approach to Social Disadvantage. "Indicators" Vol.2, No.2, pp. 6-15.
Sirovátka T. 2007, Dynamika soudobého trhu práce: Flexibilita, segmentace a inkluze [in:] Mareš, P., Hofírek, O. (ed.) Sociální reprodukce a integrace: Ideály a meze. Masarykova univerzita, Mezinárodní politologický ústav, Brno, pp. 85-99.
Smith N. 1996, The New Urban Frontier: Gentrification and the Revanchist City, Rutledge, London.
Smith N. 2003, Gentrification and the rent gap, "Annals of the Association of American Geographers", Vol. 77, pp. 462 – 465.
Townsend P. 1979, Poverty in the United Kingdom: a survey of household resources and standards of living, Penguin Books, Harmondsworth.
Vleminckx K., Berghman J. 2001, Social Exclusion and the Welfare State: An Overview of Conceptual Issues and Policy Implications [in:] Mayes, D, Berghman, J. a Salais, R. Social Exclusion and European Policy, Edward Elgar, Northampton, MA, pp. 27–46.
SLDB 2011 - vybrané výsledky podle městských částí Brna. 2011. Český statistický úřad, https://www.czso.cz/csu/xb/sldb_2011_vybrane_vysledky_podle_mestskych_casti_brna, 12.03.2019.
Official website of the Institut Terezínské iniciativy, http://www.holocaust.cz/databaze-obeti/, 19.03.2019.
IPRM Handbook, 2012, Příručka Integrovaného plánu města Brna. http://www.mmr.cz/getmedia/030d19a9-8b5a-4393-b7fd13b6276ced30/Kalaskova.pdf?ext=.pdf, 25.3.2019.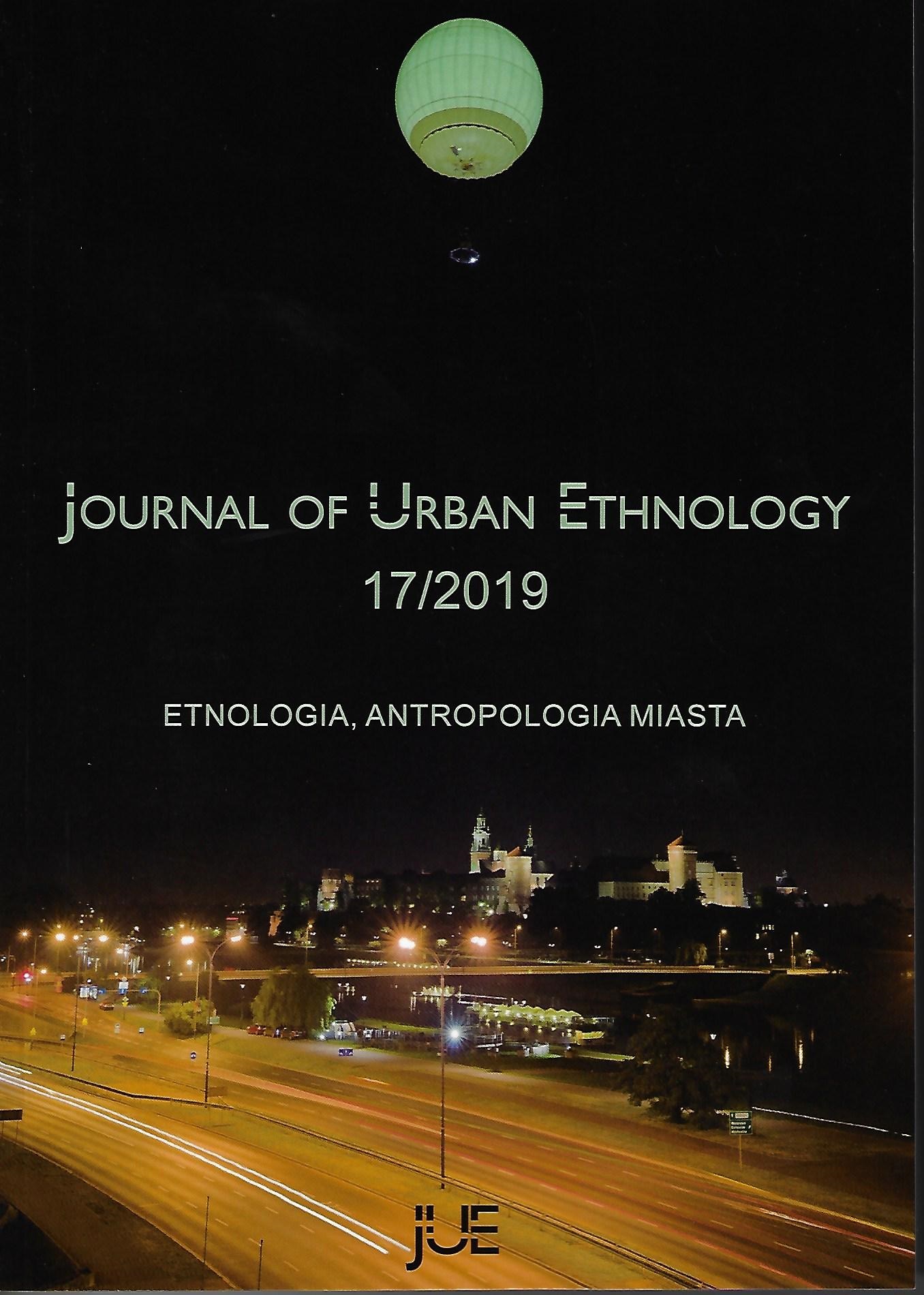 Jak cytować
Brožovičová, K. (2020). Changing cityscapes and the process of contemporary gentrification: The study of the transformation of a socially excluded area in Brno, the Czech Republic. Journal of Urban Ethnology, 17, 31-46. https://doi.org/10.23858/JUE17.2019.002