From Tower to the Bastion
Changes in Fortress Design to Accommodate Gunpowder Artillery (14th to 16th Centuries)
Keywords:
Europe, firearms, defensive architecture, castle, fortress, loop hole
Abstract
The authors set out the key turning points in the evolution of defensive architecture in response to the appearance of firearms in the 1st quarter of the 14th century in Europe, for both attack and defence. Between the first adaptations to defences during the middle of the 14th century to the emergence of geometric whole defensive systems based on low-lying bastions and interconnected outworks in the 16th century, there was a long period of evolution, experimentation and development, responding to continuous improvement in the range and destructive power of gunpowder artillery. New designs of castles, fortresses and town walls focussed on the need to shield high medieval walls and towers against the power of the gun, but also on how to mount guns on defences and integrate loop holes to keep an attacker as far away as possible. Ideas diffused rapidly across Europe and the Muslim world. Factors such as the builder's wealth and the purpose of the fortress also determined what was constructed.
References
Bibliography
Atlas 1967 – Geschichtlicher Atlas von Hessen: Lieferung 11. Marburg.
Ayers B. 1994. The English Heritage Book of Norwich. London.
Bayrou L., Faucherre N. R., Quatrefages R. 1998. La forteresse de Salses. Pyrénées-Orientales. Paris.
Bergmann R. 2005. Burg Eisenhardt in Belzig. Berlin.
Brohl E. 2013. Festungen in Hessen. Deutsche Festungen 2. Regensburg.
Cante M. 2015. Zossen. Burg – Festung – Schloss – Gutshaus – Verwaltungsgebäude. Die Schlossanlage im Wandel der Zeiten. "Brandenburgische Denkmalpflege" NF 1(1), 62-89.
Chantré C., Rathgeber J. 2008. Greiffenberg: Wiederaufnahme der Erforschung der Burgruine. "Brandenburgische Denkmalpflege" 17(1), 21-30
Chotěbor P. 2007. Die Zwingerbefestigung der Prager Burg. In: H. Müller, R. Schmitt (eds.), Zwinger und Vorbefestigung. Tagung vom 10. bis 12. November auf Schloss Neuenburg bei Freyburg (Unstrut). Langenweißbach, 161-164.
Deanović A. 1979. Contributo di Michelozzo Michelozzi alla fortificazione di Ragusa (Dubrovnik). In: Studi castellani in onore di Piero Gazzola 1. Castella 19. Roma, 275-290.
Durdík T. 1994. Kastellburgen des 13. Jahrhunderts in Mitteleuropa. Wien, Köln, Weimar.
Durdík T. 2000. The City Walls of Tábor – a Breakthrough in the Development of Central European Fortifications. In: M. Gianni Perbellini (ed.), The Town Walls in the Middle Ages. Europa Nostra Bulletin 53. The Hague, 71-76.
Durdík T. 2005. Schildmauerburgen in Böhmen. In: Interdisziplinäre Studien zur europäischen Burgenforschung. Festschrift für Horst Wolfgang Böhme zum 65. Geburtstag 2. Veröffentlichungen der Deutschen Burgenvereinigung. Reihe A: Forschungen 9. Braubach, 161-166.
Durdík T. 2007. Batterieturmburgen in Böhmen. "Castella Maris Baltici" 8, 37-48.
Durdík T., Bolina P. 2001. Středovĕké hrady v Čechách a na Moravĕ. Prague.
Feulner A. 1913. Die Kunstdenkmäler von Unterfranken 7: Bezirksamt Marktheidenfeld. München.
Friedhoff J. 2011. Der Aus- und Neubau von Burgen in der ersten Hälfte des 15. Jahrhunderts unter den Landgrafen Hermann II. und Ludwig I. von Hessen. In: J. Zeune (ed.), Die Burg im 15. Jahrhundert. Braubach, 63-73.
Gabriel A. 1921. La cité de Rhodes MCCCX–MDXXII 1. Paris.
Gebuhr R. 2018. Burg Eisenhardt in Bad Belzig - archivalische Forschungen zum Festungsbau. "Festungsforschung" 9, 41-60.
Geibig A., Zeune J. 2003. Wider die verdampten keczer. Hussitenzeitliche Schießscharten des Coburger Landes und ihre Effizienz. In: R. Butz, G. Melville (eds.), Coburg 1353. Stadt und Land Coburg im Spätmittelalter. Festschrift zur Verbindung des Coburger Landes mit den Wettinern vor 650 Jahren bis 1918. Coburg, 179-205.
Gutbier R. 1973. Der landgräfliche Hofbaumeister Hans Jakob von Ettlingen. Eine Studie zum herrschaftlichen Wehr- und Wohnbau des ausgehenden 15. Jahrhunderts 1. Darmstadt, Marburg.
Gutbier R. 1976. Zwinger und Mauerturm. Ihre Wandlungen im späten Mittelalter, dargestellt an nordhessischen Beispielen. "Burgen und Schlösser" 1, 21-29.
Gutbier R. 1999. Hessen. Späte Burgen. In: H. W. Böhme, B. von der Dollen, D. Kerber (eds.), Burgen in Mitteleuropa. Ein Handbuch 2. Stuttgart, 153-157.
Hale J. R. 1983. The Early Development of the Bastion, an Italian Chronology c. 1450–1530. In: J. R. Hale, Renaissance War Studies. London, 1-30.
Harvey J. 1944. Henry Yevele. The Life of an English Architect. London.
Herrmann C. 2011. Ragnit, Neidenburg, Bütow – die letzten drei Ordensburgen in Preußen. In: J. Zeune (ed.), Die Burg im 15. Jahrhundert. Braubach, 155-164.
Herrmann C. 2019. Der Hochmeisterpalast auf der Marienburg. Konzeption, Bau und Nutzung der modernsten europäischen Fürstenresidenz um 1400. Berliner Beiträge zur Bauforschung und Denkmalpflege 17. Petersberg.
Karaman A. 2003. The City Walls of Dubrovnik. Zagreb.
Kenyon J. R. 1981. Early Artillery Fortifications in England and Wales: a Preliminary Survey and Reappraisal. "Archaeological Journal" 138(1), 205-240.
Knöppel V. 2017. Der Weidelsberg und seine Burg. Korbach.
Kollias E. 1998. The Medieval City of Rhodes and the Palace of the Grand Master. Athens.
Krauskopf C. 2011. Veränderungen im Wehrbau brandenburgischer Burgen während des 15. Jahrhunderts. In: J. Zeune (ed.), Die Burg im 15. Jahrhundert. Braubach, 49-62.
Langer T. 2007. Das Torhaus der Burg Eisenhardt in Belzig. Ein spätgotischer Umbau unter Federführung des Baumeisters Arnold von Westfalen. In: Schlossbau der Spätgotik in Mitteldeutschland. Tagungsband. Dresden, 155-167.
Langer T. 2011. Die Burg Eisenhardt in Belzig – Ein kursächsischer Festungsbau des 15. Jahrhunderts. "Burgenforschung aus Sachsen" 24, 98-138.
Lemcke H. 1911. Die Baudenkmäler der Provinz Pommern 3. Die Bau- und Kunstdenkmäler des Regierungsbezirks Köslin. 2,2. Die Kreise Bütow und Lauenburg. Stettin.
MUB 1907 – Mecklenburgisches Urkundenbuch. Vol. 22, 1391-1395. Schwerin.
Mesqui J. 1997. Châteaux forts et fortifications en France. Paris.
Meyer W. 1981. Burgen von A bis Z – Burgenlexikon der Regio. Basel.
Meyer W. 2009. Bollwerk und Zwinger. Wehrtechnische Neuerungen im Burgenbau des 15./16. Jahrhunderts. In: B. Scholkmann, S. Frommer, Ch. Vossler, M. Wolf (eds.), Zwischen Tradition und Wandel: Archäologie des 15. und 16. Jahrhunderts. Tübinger Forschungen zur historischen Archäologie 3. Büchenbach, 237-249.
Migos A. 1990. Rhodes: the Knights' battleground. "Fort" 18, 5-28.
O'Neil B. H. St. John 1960. Castles and Cannon. A Study of Early Artillery Fortifications in England. Oxford.
Ottersbach C., Wagner H., Wöllper J. 2014. Festungen in Baden-Württemberg. Regensburg.
Ottersbach C. 2015. Türme, Kaponnieren und Bastionen. Flankierungselemente der mittelalterlichen Burg in Mitteleuropa. In: J. Zeune (ed.), Dem Feind zum Trutz. Wehrelemente an mittelalterlichen Burgen. Braubach, 189-204.
Pospieszny K. 2007. Plauen-Bollwerk. Die frühe Pulverwaffenfortifikation der Marienburg in Preußen. "Castella Maris Baltici" 8, 141-150.
Purton P. 2010. A History of the Late Medieval Siege. Woodbridge.
Purton P. 2018. The Medieval Military Engineer. From the Roman Empire to the Sixteenth Century. Woodbridge.
Renn D. F. 1968. The Earliest Gunports in Britain? "Archaeological Journal" 125, 301-303.
Renn D. 1982. Gun Loops. In: S. S. Frere, S. Towe (eds.), The Archaeology of Canterbury 2: Excavations on the Roman and Medieval Defences of Cunterbury. Maidstone, 117-118.
Salm J. 2011. Die polnischen Burgen im 15. Jahrhundert. In: J. Zeune (ed.), Die Burg im 15. Jahrhundert. Braubach, 148-154.
Santoro R. 1994. Architetti italiani operandi alla defesa della stato dei 'cavalieri di Rodi (Ordine di San Giovanni Gerosolamitano, ovvere 'Ospitalieri'). In: M.
Viganò (ed.), Architetti e ingegneri militari italiani all'estero dal XV al XVIII secolo 1. "Castella" 44, 33-38.
Saunders A. 2000. Southampton: the Introduction of Gunpowder Artillery to the Town's Defences. "Europa Nostra Bulletin" 53, 53-58.
Spiteri S. C. 2001. Fortresses of the Knights. Malta.
Schmaedecke M. 2005. Die Ruine Farnsburg, Die Sanierung 2002 und 2003 sowie Beobachtungen zur Baugeschichte und zu früheren Sanierungen. Archäologie und Museum 49. Liestal.
Schicht P. 2003. Österreichs Kastellburgen des 13. und 14. Jahrhunderts. Wien.
Strickhausen G., Strickhausen-Bode N. 2015. Burg Trendelburg – eine innovative Festung des 15. Jahrhunderts. "Denkmalpflege und Kulturgeschichte 2015 (2), 28-36.
Uhl S., Zeune J. 1999. Schildmauern. In: H.-W. Böhme, B. von der Dollen, D. Kerber, B. Schock-Werner, J. Zeune (eds.), Burgen in Mitteleuropa 1. Stuttgart, 231-234.
Tatton-Brown T. 1985. The West Gate. Canterbury. Canterbury Archaeological Trust.
Varhaník J. 1997. Kotnovská věž v Táboře. "Průzkumy památek" 4(2), 51-56.
Varhaník J. 1998. Husitské opevnĕní hradu Orlíka nad Vltavou. "Průzkumy památek" 5, 13-32.
Verdier P. 1939. La rocca d'Ostie dans l'architecture militaire du Quatrocentro. "Mélanges de l'école française de Rome: Italie et Méditerranée" 56, 280-331.
Zeune J. 2011. Frühe Artilleriebefestigungen der Zeit um 1420/30 in Bayern. In: J. Zeune (ed.), Die Burg im 15. Jahrhundert. Braubach, 74-88.
Zeune J. (ed.) 2011. Die Burg im 15. Jahrhundert. Veröffentlichungen der Deutschen Burgenvereinigung Reihe B. Schriften 12. Braubach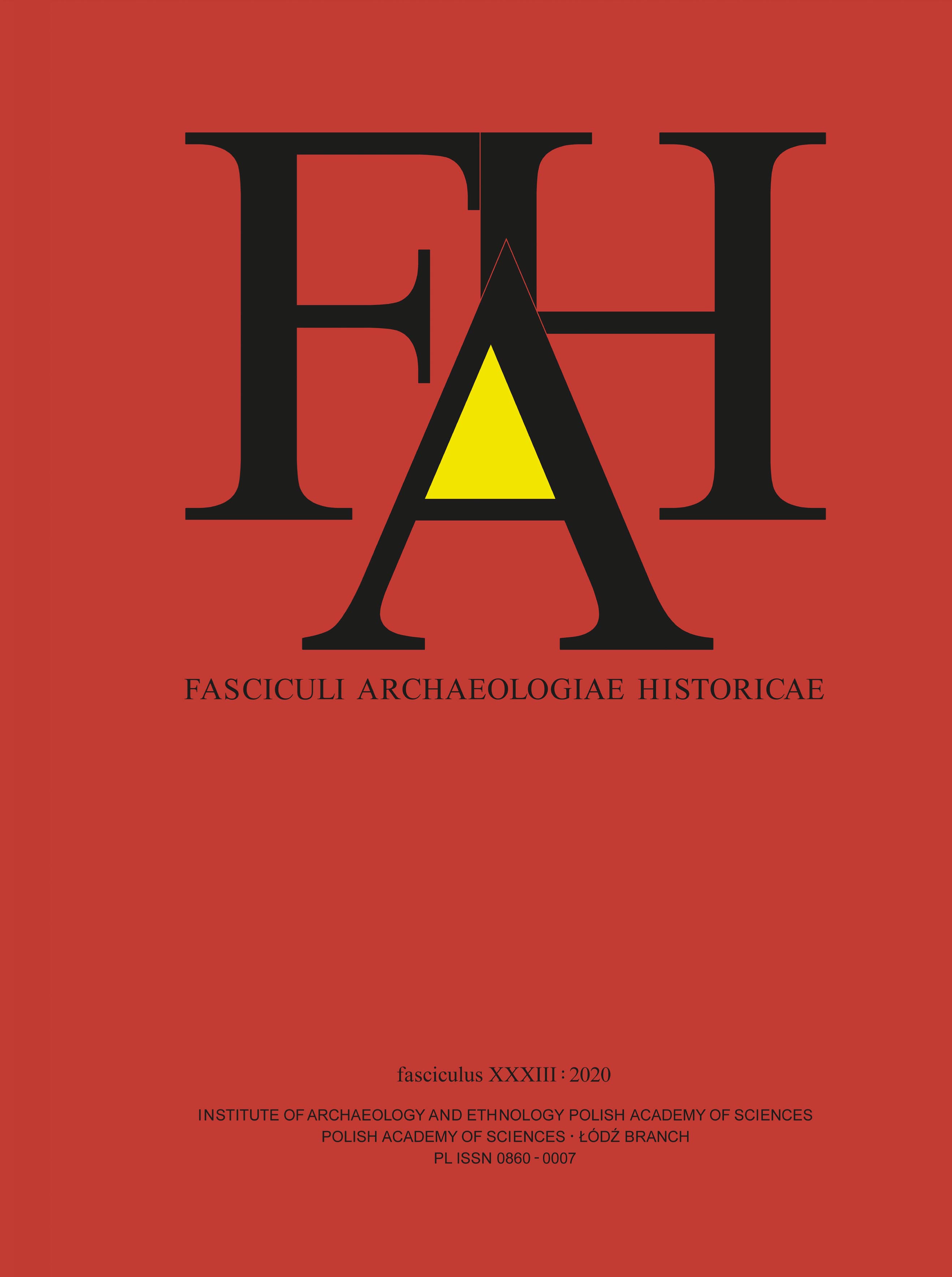 Downloads
How to Cite
Krauskopf, C., & Purton, P. (2020). From Tower to the Bastion: Changes in Fortress Design to Accommodate Gunpowder Artillery (14th to 16th Centuries). Fasciculi Archaeologiae Historicae, 33, 89–101. https://doi.org/10.23858/FAH33.2020.006
License
Copyright (c) 2020 Fasciculi Archaeologiae Historicae
This work is licensed under a Creative Commons Attribution 4.0 International License.