Graves of the beginning of the Early Iron Age in the barrow 1 of the "Rybkhoz" ("Fish farm") Group in the Lower Dniester region
Abstrakt
Two graves of the Pre-Scythian period (Chernogorovka culture) from barrow 1 of the "Rybkhoz" ("Fish farm") group near Glinoe village, Slobodzeya district, on the left bank of the Lower Dniester are considered on the broad background of analogies. The issues of chronology and morphology of some categories of adornments are analyzed. Particular attention is drawn to burial 8 with two bronze temporal pendants. There are no analogies to these adornments in the materials of the Chernogorovka culture. The decorative endings of these pendants resemble the design of the backs of the eastern Mediterranean ("nodular") fibulae, especially items with three spherical or biconical thickenings. Rings-pendants from burial 14 do not find complete matches among the adornments of the Chernogorovka culture. At the same time, these products are similar to adornments from contemporaneous North Caucasian sites due to their massiveness and non-closed ends. Both graves date back to the 9th – the first half of the 8th century BC.
Downloads
Download data is not yet available.
Bibliografia
Bruyako I. V. 2013. O polze arkheologii v poiskakh sushchego (Zametki o fakticheskom soderzhanii ponyatiya «frako-kimmeriyskiy» gorizont). Stratum plus 3/2013, 155-190.
Bruyako I. V. 2017. Kollektsiya psaliev predskifskogo vremeni iz Kartala. Stratum plus 3, 311-327.
Chochorowski J. 1993. Ekspansja kimmeryjska na tereny Europy Środkowej. Kraków: Uniwersytet Jagielloński.
Dubovskaya O. R. 1993. Voprosy slozheniya inventarnogo kompleksa chernogorovskoy kultury. Arkheologicheskiy almanakh 2, 137-160.
Dubovskaya O. R. 1994. Lokalnye zony chernogorovskoy kultury (po materialam skorchennykh pogrebeniy). Rossiyskaya arkheologiya 2, 15-29.
Dvornichenko V. V. 1968. Pogrebeniya s podboyami epokhi pozdney bronzy v Severnom Prichernomore. In I. V. Yatsenko (ed.), Sbornik dokladov na IX i X Vsesoyuznykh arkheologicheskikh studencheskikh konferentsiyakh. Moscow: Moskovskiy gosudarstvennyy universitet, 5-15.
Fidelsky S. A. and Sinika V. S. 2010. Dva novykh stepnykh kimmeriyskikh pogrebeniya (k voprosu o severokavkazskikh vliyaniyakh na Yugo-Vostochnuyu Evropu v predskifskiy period. Revista arheologică. Serie nouă VI(1), 164-170.
Gergova D. 1978. Contributions to the problem of Thrako-Caucasian relations in the Iron Age. Pul-pudeva 3, 296-304.
Goshko T. Yu. and Otroshchenko V. V. 1986. Pogrebeniya kimmeriytsev v katakombnykh i podboynykh sooruzheniyakh. Sovetskaya arkheologiya 1, 168-183.
Ivanova S. V., Petrenko V. G. and Vetchinnikova N. E. 2005. Kurgany drevnikh skotovodov mezhdurech'ya Yuzhnogo Buga i Dnestra. Odessa: Institut arkheologii NAN Ukrainy.
Kadieva A. A., Valchak S. B. and Demidenko S. V. 2020. Muzhskie pogrebeniya predskifskogo vremeni v vytyanutom polozhenii na mogilnike Zayukovo-3. Kratkie soobshcheniya Instituta arkheologii RAN 258, 165-180.
Kashuba M. T. 2000. Rannee zhelezo v lesostepi mezhdu Dnestrom i Siretom (kultura Koziya-Sakharna). Stratum plus 3/2000, 241-488.
Kaşuba M. 2003. Periferia de est a complexului hallstatian timpuriu cu ceramică incizată şi imprimată (secolele X-VIII î. e. n. în interfluviul Nistru-Siret). In: E. Sava (ed.), Interferenţe cultural-cronologice în spaţiul nord-pontic. Chişinău: Insitutul de Arheologie si Etnografie Academiei de Ştiinţe a Republicii Moldova, 183-210.
Kašuba M. 2006. Fibeln mit Bügelkugeln in der Moldau und Anmerkungen zum ägäischen Einfluss im 10. – 9. Jh. v. Chr. Prähistorische Zeitschrift 81(2), 213–235.
Korenyako V. A. 1982. Pogrebeniya predskifskogo vremeni na Vostochnom Manyche. Kratkie soobshcheniya Instituta arkheologii RAN 170, 64-70.
Kozenkova V. I. 1998. Materialnaya osnova byta kobanskikh plemen. Western variant (= Svod arkheologicheskikh istochnikov B2-5). Moskva.
Kozenkova V. I. 2001. Poselok-ubezhishche kobanskoy kultury u aula Serzhen'-Yurt v Chechne kak istoricheskiy istochnik (Severnyy Kavkaz). Moscow: Nauka.
Kozenkova V. I. 2004. Biritualizm v pogrebalnom obryade drevnikh «kobantsev». Mogilnik Tereze kontsa XII–VIII v. do n.e. (= Materialy po izucheniyu istoriko-kulturnogo naslediya Severnogo Kavkaza 5). Moskva.
Levitsky O. G. and Kashuba M. T. 2011. Kurgany u s. Kotyuzhen' na yuge Srednego Podniestrovia i problema «frako-kimmeriyskikh» drevnostey (opyt izucheniya «pustykh» pogrebeniy»). Arkheologicheskie vesti 17, 239-258
Litvinenko R. A. 2009. Kulturne kolo Babine (za materіalami pokhovanikh pamiatok). Theses of the dissertation of a doctor of historical sciences. Kyiv.
Lukyashko S. I. 1999. Predskifskiy period na Nizhnem Donu. Azov: Azovskiy kraevedcheskiy muzey.
Makhortykh S. V. 2005. Kimmeriytsy Severnogo Prichernomoria. Kiev: Shlyakh.
Otroshchenko V. V. 1986. Belozerskaya kultura. In S. S. Berezanskaya, V. V. Otroshchenko, N. N. Cherednichenko and I. N. Sharafutdinova, Kultury epokhi bronzy na territorii Ukrainy. Kiev: Naukova dumka, 117-152.
Otroshchenko V. V. 2001. Problemi periodizatsii kultur serednoi ta piznoi bronzi pivdnia Skhidnoi Evropi (kulturno-stratigrafіchnі zіstavlennya). Kyiv: Institute of Archeology of the National Academy of Sciences of Ukraine.
Savva E. N. 1992. Kultura mnogovalikovoy keramiki Pruto-Dnestrovskogo mezhdurechia. Kishinev: Shtiintsa.
Sharafutdinova I. N. 1982. Stepnoe Podneprove v epokhu pozdney bronzy. Kiev: Naukova dumka.
Sinika V. S., Razumov S. N. and Telnov N. P. 2016. Arkheologicheskoe nasledie Pridnestrovia. Tiraspol: Poligrafist.
Tarasova N. V. 2004. Visochnye podveski – «barani rozhki» predskifskogo perioda. In Problemy istorii i arkheologii Ukrainy. Materialy V Mezhdunardnoy nauchnoy konferentsiyu. Kharkov: Nauchno-metodicheskiy tsentr, 24-25.
Tarasova N. V. 2005. Visochnye podveski iz dragotsennykh metallov predskifskogo perioda. Nizhnevolzhskiy arkheologicheskiy vestnik 7, 122-132.
Toncheva G. 1980. Chronologie du Hallstatt Ancien dans la Bulgarie de Nord-Est (= Studia Thracica 5). Sofia: Academia Litterarum Bulgarica, Institutum Thracicum.
Valchak S. B. 2013. Raskopki mogilnika Nacherziy v Adygee. In A. N. Voroshilov (ed.). Vostochnoevropeyskie drevnosti. Voronezh: Nauchnaya kniga, 47-57.
Valchak S. B., Sinika V. S., Łukasik S., Pospeshny L. and Gorbol N. Yu. 2019. Predskifskie pogrebeniya gruppy «Sad» u s. Glinoe na levoberezhe Nizhnego Dnestra. Journal of archaeology, anthropology and interdisciplinary studies 1, 159-182.
Vanchugov V. P. 1990. Belozerskie pamyatniki v Severo-Zapadnom Prichernomore. Kiev: Naukova dumka.
Vanchugov V. P., Zaginaylo A. G. and Toshchev G. N. 1976. Okhrannye raskopki u s. Trapovka Odesskoy oblasti. In Z. V. Pershina (ed.), Arkheologicheskie i arkheograficheskie issledovaniya na territorii Yuzhnoy Ukrainy. Kiev, Odessa: Odesskiy gosudarstvennyy universitet, 214-224.
Vinski Z. and Vinski-Gasparini K. 1962. O utjecajima istočno-alpske halštatske culture i balkanske ilirske culture na slavonsko-srijemsko Podunavlje. Arheoloski radovi i rasprave II, 263-293.
Yarovoy E. V., Kashuba M. T. and Makhortykh S. V. 2002. Kimmeriyskiy kurgan u pgt. Slobodzeya. In N. A. Ketraru (ed.), Severnoe Prichernomore: ot eneolita k antichnosti. Tiraspol: Tipar, 279-343.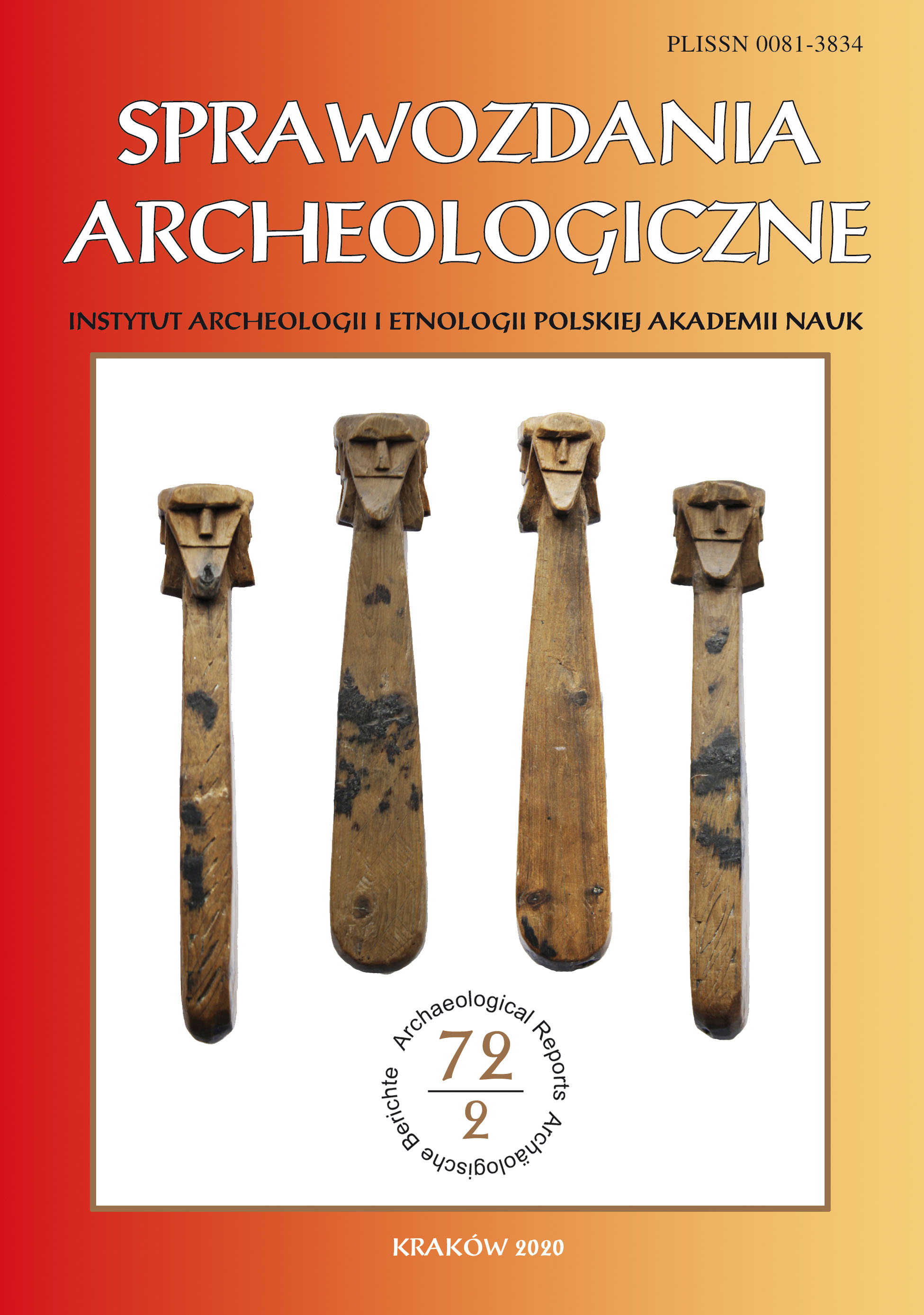 Jak cytować
Sergey B., V., Sergey D., L., Nikolai Yu. , G., Sergey N. , R., Nikolai P. , T., & Vitalij, S. (2020). Graves of the beginning of the Early Iron Age in the barrow 1 of the "Rybkhoz" ("Fish farm") Group in the Lower Dniester region. Sprawozdania Archeologiczne, 72(2). https://doi.org/10.23858/SA/72.2020.2.2023
Dział
Badania terenowe i materiały
Copyright (c) 2020 Sprawozdania Archeologiczne
Utwór dostępny jest na licencji Creative Commons Uznanie autorstwa 4.0 Międzynarodowe.