On Crosses, Shrines, and Cholera Cemeteries in the Parishes of Mierzyn and Rozprza, Łódzkie Voivodeship (Poland)
Maria Baranowska

Independent researcher
Keywords:
cholera, epidemic cemetery, central Poland, Mierzyn, Rozprza, Modern Times, non-invasive prospection techniques
Abstract
The aim of this paper is to illustrate the material remains of epidemics that affected two parishes in the centre of Poland in the 18th and 19th centuries. The paper will present the preliminary results of research in archives (metrical books) compared with both the accounts of descendants of families who died as a result of the epidemics and prospecting with non-invasive methods (LIDAR).
Downloads
Download data is not yet available.
References
Baranowski B. 1989. Dzieje Piotrkowa Trybunalskiego. Łódź.
Baranowska M. 2018. Szkice z dziejów Mierzyna. Tomaszów Mazowiecki.
Blanchard P., Georges P. 2007. Projet de recherche de sépultures d'épidémie à Lignières-en-Berry (Cher): à chacun sa croix... In: D. Castex, I. Cartron (eds.), Epidémies et crises de mortalité du passé. Actes des séminaires, année 2005, de la Maison des Sciences de l'Homme. Ausonius Études. Pessac, 169-191.
Ciesielska A. 2008. Wykluczenie społeczne chorych i jego odzwierciedlenie w układach przestrzennych. In: W. Dzieduszycki, J. Wrzesiński (eds.), Epidemie, klęski, wojny. Funeralia lednickie 10. Poznań, 115-123.
Danowska E. 2017. Zapobieganie i walka z epidemiami na południowo-wschodniej granicy Rzeczypospolitej za czasów króla Stanisława Augusta Poniatowskiego. "Studia Historyczne" 60(1), 25-40.
Domanowska A. 2010. Kości na Bagnówce, kości w Studziankach. "Gazeta Wyborcza", Białystok, nr 257 z 3 listopada 2010 r.
Fornaciari G. 2017. New Methods for Investigating Past Epidemies: Archaeology, Paleonthology, Ancient DNA. In: B. Fantini (ed.), Epidémies et sociétés, passé, présent et futur. Geneve, 37-50.
Gładykowska-Rzeczycka J. 2008. Paleoepidemiologia-archeoepidemie. In: W. Dzieduszycki, J. Wrzesiński (eds.), Epidemie, klęski, wojny. Funeralia lednickie 10. Poznań, 37-52.
Ignas K. 2018. Topiec, błąd, lizibożek i dzidko. Relikty ludowych wierzeń demonologicznych z okolic Przeworska. Komentarz wystawy. Przeworsk.
Janicka I. 2021. Sina śmierć z Azji. Epidemie cholery w północno-zachodnich guberniach Cesarstwa Rosyjskiego w XIX wieku. Gdańsk.
Karpiński A. 2000. W walce z niewidzialnym wrogiem. Epidemie chorób zakaźnych w Rzeczypospolitej w XV-XVIII wieku i ich następstwa demograficzne, społeczno-ekonomiczne i polityczne. Warszawa.
Karpiński A. 2014. Kopacze: grabarze morowi w miastach Rzeczypospolitej XVI–XVIII wieku. "Kwartalnik Historii Kultury Materialnej" 62(3), 367-378.
Ostaszewski M. 2015. Pamięć o epidemii cholery z 1893 roku we wsi Bagnówka pod Białystokiem. "Studia Podlaskie" 23, 119-138.
O środkach zaradczych w epidemii cholery – O środkach zaradczych w epidemii cholery w r. 1852 w Królestwie Polskim przedsiębranych, z dołączeniem wiadomości lekarskich i statystycznych. Warszawa 1852.
Roberts Ch., Cox M. 2003. Health and Disease in Britain. From Prehistory to Present Day. Gloucestershire.
Souquet-Leroy I., Castex D., Blanchard P. 2012. Le traitement des cadavres en temps d'épidémie: l'exemple d'Issoudun (XVIIIe siècle, Indre). In: H. Guy, A. Jeanjean, A. Richier, A. Schmitt, I. Sénépart, N. Weydert (eds.), Rencontre autour du cadavre. Actes du colloque de Marseille, BMVR 15, 16, 17 décembre 2010, Dec 2010, Marseille. Groupe d'anthropologie et d'archéologie funéraire (GAAF). Marseille, 131-137.
Srogosz T. 1997. Dżuma ujarzmiona? Walka z czarną śmiercią za Stanisława Augusta. Wrocław.
Svoboda P. 2004. The Health of the Population and Health Policy in 19th Century Bohemia: The Case of Asiatic Cholera (1830s-1900s). In: L. Abreu (ed.), European Health and Social Welfare Policies. Brno, Phoenix, 200-215.
Vigarello G. 1997. Historia zdrowia i choroby. Od średniowiecza do współczesności. Warszawa.
Wyżga M. 2014. Funkcjonowanie wiejskich cmentarzy parafii katolickich w dobie przedrozbiorowej na przykładzie dekanatów Nowa Góra, Skała i Proszowice z okolic Krakowa. "Kwartalnik Historii Kultury Materialnej" 62(3), 441-462.
Metrical books of Mierzyn parish from 1809-1874 / Księgi metrykalne parafii Mierzyn z lat 1808-1874. Source: https://metryki.genealodzy.pl/ar3-zs1586d
Metrical books of Rozprza parish from 1808-1867 / Księgi metrykalne parafii Rozprza z lat 1808-1867 / Source: https://metryki.genealodzy.pl/ar3-zs1649d
Description of the parish of Mierzyn in 1946, Mierzyn Parish Archive. Mierzyn / Opis parafii Mierzyn z roku 1946, Archiwum Parafialne w Mierzynie .
Oral report from an inhabitant of Tomawa S. Dobrysiewicz – interview in 2017.
Oral report from an inhabitant of Szczepanowice Z. Owczarek – interview in 2021.
Registry of births of the parish of Mierzyn in the years 1719-1821 compiled by priest Franciszek Zader. Parish archive in Mierzyn / Regestr urodzonych parafii Mierzyn w latach 1719-1821 sporządzony przez ks. Franciszka Zadera. Archiwum parafialne w Mierzynie.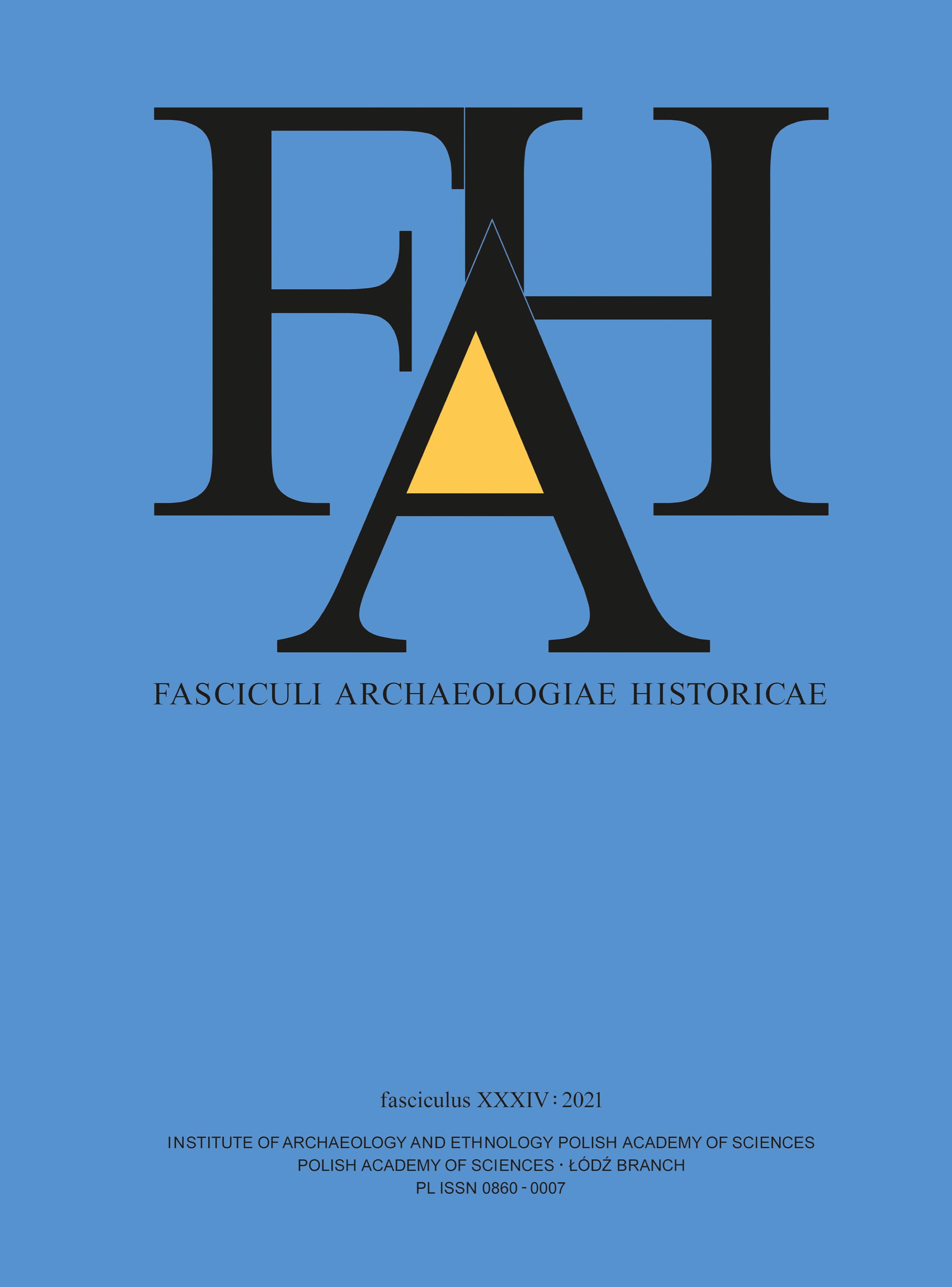 How to Cite
Baranowska, M. (2021). On Crosses, Shrines, and Cholera Cemeteries in the Parishes of Mierzyn and Rozprza, Łódzkie Voivodeship (Poland). Fasciculi Archaeologiae Historicae, 34, 69-81. https://doi.org/10.23858/FAH34.2021.005
This work is licensed under a Creative Commons Attribution 4.0 International License.