Die Pfeilspitzen in Polen (= Prähistorische Bronzefunde; Abteilung V, Vol. 6), Marek Gedl, Stuttgart 2014 : [recenzja]
Keywords:
arrowheads, Poland
Abstract
In 2014, archaeological literature was supplemented with yet another volume of the monumental "Prähistorische Bronzefunde" series, a monograph by late Prof. Marek Gedl on arrowheads from the territory of present-day Poland in the Bronze and the early Iron Ages. It is worth noting that Prof. Gedl had discussed other categories of artefacts: points, some kinds of pins, razors and sickles, within the series (Gedl 1980, 1983, 1984, 1993)...
Downloads
Download data is not yet available.
References
Eckhard H. 1996. Pfeil und Bogen. Eine archäeologisch-technologische Untersuchung zu urnenfelder-und hallstattzeitlichen Befunden (= Internationale Archäeologie 21). Espelkamp: Marie Leidorf
Fogel J. 1988. Militaria kultury łużyckiej z dorzecza Odry i Wisły (Źródła). Poznań: Instytut Prahistorii UAM
Gedl M. 1980. Die Dolche und Stabdolche in Polen (= Prähistorische Bronzefunde. Abteilung 6. Band 4). München: C. H Beck
Gedl M. 1983. Die Nadeln in Polen I (Frühe und ältere Bronzezeit) (= Prähistorische Bronzefunde. Abteilung 13. Band 7). München: C. H Beck
Gedl M. 1984. Die Messer in Polen (= Prähistorische Bronzefunde. Abteilung 7. Band 4). München: C. H Beck
Gedl M. 1995. Die Sicheln in Polen (= Prähistorische Bronzefunde. Abteilung 18. Band 4). München: C. H Beck
Hellmuth A. 2006. Smolenice-Molpír im Licht skythischer Angriffe auf die hallstattzeitlichen Siedlungen nőrdlich und südlich der Mährischen Pforte. Slovenská Archeológia 54(2), 191-208
Konieczny B. 2014. Cmentarzysko kultury łużyckiej z epoki brązu na stanowisku 10-11 w Targowisku, gm. Kłaj, woj. Małopolskie. In J. Górski (ed.), Kompleks osadniczy kultury łużyckiej w Targowisku, stan. 10-12, pow. wielicki (= Via Archaeologica. Źródła z badań wykopaliskowych na trasie autostrady A4 w Małopolsce). Kraków: Krakowski Zespół do Badań Autostrad, 103-179
Říchovský J. 1996. Die Lenzen-, Speer- und Pfeilspitzen in Mähren (= Prähistorische Bronzefunde. Abteilung 5. Band 2). München: C. H Beck
Taras H. 1995. Kultura trzciniecka w międzyrzeczu Wisły, Bugu i Sanu. Lublin: Wydawnictwo UMCS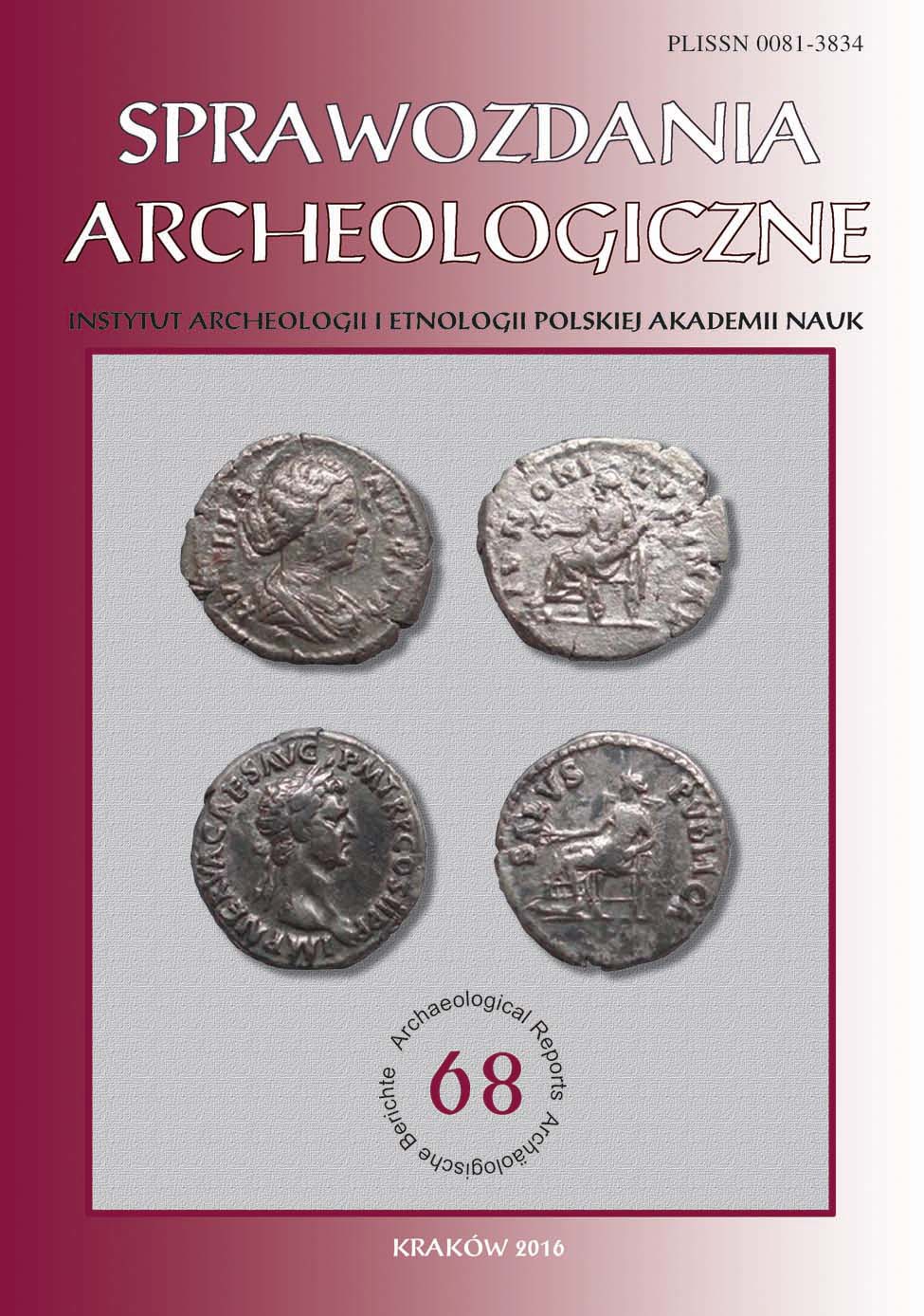 Downloads
How to Cite
Górski , J. . (2016). Die Pfeilspitzen in Polen (= Prähistorische Bronzefunde; Abteilung V, Vol. 6), Marek Gedl, Stuttgart 2014 : [recenzja] . Sprawozdania Archeologiczne, 68, 421–425. Retrieved from https://journals.iaepan.pl/sa/article/view/2256
Section
Reviews and short review notes