High medieval fish-shaped needle case from Wolin. From the Studies on the Culture of the Elite
Keywords:
Wolin, High Middle Ages, bone and antler, needle case, Pomerania
Abstract
The article presents the case study of a needle case discovered in 2013 during excavations on the medieval harbour in Wolin, Pomerania, Poland. This rare artefact is made from antler and has a fish shape. A literature search revealed only a six analogical objects in Central and Eastern Europe – three in Poland and another three in Russia and Ukraine. All were discovered on important sites and strongholds of this specific territory, and all are elite products of 12th century craftsmanship.
Downloads
Download data is not yet available.
References
Arcikhovskiy A. V. 1956. Arkheologicheskoe izuchenie Novgoroda. In A. V. Arcikhovskiy and B. A. Kolchin (eds), Trudy novgorodskoy arkheologicheskoy eskpedicii 1 (= Materialy i issledovaniya po arkheologii SSSR 55). Moskva: Akademia Nauk SSSR, 7-43.
Beaudry M.C. 2007. Findings. The material culture of needlework and sewing. New Haven & London: Yale University Press.
Bocharov G. N. 1969. Prikladnoe iskusstvo Novgoroda Velikogo. Moskva: Nauka.
Bocharov G. N. 1983. Rezba po kosti v Novgorode (X-XV veka). In S. V. Yamshchikov (ed.), Drevniy Novgorod. Istoriya. Iskusstvo. Arkheologiya. Novye issledovaniya. Moskva: Nauka, 111-140.
Chernenko O. E., Kazakov A. L. and Rizhiy V. V. 2010. Doslidzhennya na teritorii Chernigova u 2009 r. Arkheologichni doslidzhennya v Ukraini 2009, 461-462.
Dementeva A. S. and Lebedeva O. S. 2021. Kostianye igolniki Gnezdovskogo arkheologicheskogo kompleksa. In S. Yu. Kainov (ed.), Gnezdovskiy arkheologicheskiy kompleks. Materialy i issledovaniya 2 (= Trudy Gosudarstvennogo Istocheskogo muzeya 215). Moskva: Istoricheskiy Muzey, 76-84.
Dymaczewski A. 1961. Badania w ogrodzie przy ul. Wieżowej 2-4 w Poznaniu w latach 1950-1953. In W. Hensel (ed.), Poznań we wczesnym średniowieczu 3. Wrocław, Warszawa: Zakład Narodowy im. Ossolińskich, 139-229.
Firszt S. 1983. Wczesnośredniowieczny igielnik z Legnicy. Informator Okręgowego Muzeum Miedzi w Legnicy 1983/3, 7-11.
Forstner D. 1977. Die Welt der christlichen Symbole. Innsbruck: Tyrolia-Verlag.
Golubeva L.A. 1978. Igolniki vostochnoevropeyskogo Severa X-XIV vv. In V. I. Kozenkova, Yu. A. Krasnov and I. G. Rozenfeldt (eds), Voprosy drevney i sredevekovoy arkheologii Vostochnoy Evropy. Moskva: Nauka, 199-204.
Golubeva L. A. 1997. Amulety. In B. A. Kolchin and T. I. Makarova (eds), Drevnaya Rus. Byt i kultura. Moskva: Nauka, 153-165.
Goncharov V. K. 1964. Drevnoruske gorodische Ivan-gora. Arkheologiya 16, 126-131.
Janowski A. 2014. W wolińskim porcie … / In Wolin's port … Wolin: Muzeum Regionalne im. Andrzeja Kaubego w Wolinie.
Kara M. 2019. Ze studiów nad elitarną kulturą ludności grodów tzw. centralnych państwa pierwszych Piastów, czyli ponownie o wczesnośredniowiecznym grzebieniu ze Stroszek pod Gieczem. Ujęcie porównawcze. Slavia Antiqua 60, 107-191.
Kaźmierczyk J. (ed.) 1975. Odkrywamy prapolski Śląsk. Wrocław: Wojewódzki Ośrodek Archeologiczno-Konserwatorski we Wrocławiu.
Kolchin B. A. 1956. Topografiya, stratigrafiya i khronologiya Nerevskogo raskopa. In A. V. Arcikhovskiy and B. A. Kolchin (eds), Trudy novgorodskoy arkheologicheskoy eskpedicii 1 (= Materialy i issledovaniya po arkheologii SSSR 55). Moskva: Akademia Nauk SSSR, 44-137.
Kolchin B. A., Yanin V. L. and Yamshchikov S. V. 1985. Drevniy Novgorod. Prikladnoe iskusstvo i arkheologiya. Moskva: Iskusstvo.
Krylasova N. B. 2007. Arkheologiya povsednevnosti. Materialnaya kultura srednevekovogo Preduralya. Perm: Permskiy Gosudarstvenny y Pedagogicheskiy Universitet.
Kuczkowski A. 2010a. Wczesnośredniowieczny igielnik rogowy z Kołobrzegu-Budzistowa. Materiały Zachodniopomorskie. Nowa Seria 4-5/1, 351-356.
Kuczkowski A. 2010b. Średniowieczne tzw. igielniki z rogu i poroża odkryte na ziemiach polskich. Archeologia Polski 55/1-2, 107-118.
KuznetsovaV. N. 2020. Drevnerusskie igolniki s arochnoyazhurnoy spinkoy. Arkheologicheskie Vestii 28, 334-346.
Lasota C. 1980. Legnica we wczesnym średniowieczu. Wrocław. Manuscript in the archive of Instytut Historii Architektury, Sztuki i Techniki Politechniki Wrocławskiej. Wrocław.
Matáková B. 2006. Ikonografia vybraných výtvarných motívov – ikonografia ryby. In R. Kožiak and J. Nemeš (eds), Svätec a jeho funkcie v spoločnosti II. Bratislava: Chronos, 11-38.
Mälarstedt H. 1984. Nadelbüchsen. In G. Arwidsson (ed.), Birka II:1. Systematische Analysen der Gräberfunde. Stockholm: Kungl. Vitterhets Historie och Antikvitets Akademien, 191-194.
Meacham C. 2007. Figural Needlework Tools – Thimble Holders & Needle Cases. Points of Interest: A Newsletter for Collectors, January 2007, 1-7.
Motsia O., Kazakov A. 2011. Davnoruskiy Chernigiv. Kiiv: Starodavniy Svit.
Øye I. 1988, Textile equipment and its working environment, Bryggen in Bergen c 1150-1500 (= The Bryggen Papers, Main Series 2). Bergen: Norwegian University Press.
Petersen J. 1951. Vikingetidens redskaper. Oslo: Norske Videnskaps-Akademi.
Sergeyeva M. S. 2012. Golniki z kistki ta rogu z davnoruskich mist listostepovogo Pridniprovia. In P. P. Tolochko (ed.), Materialna ta duchovna kultura Pivdennoy Rusi. Kiiv-Chernigiv: Institut Arkheologii NAN Ukrayini, 260-264.
Sergeyeva M. S. 2015. K voprosu o vneshnem faktore razvitiya chudozhestvennoy rezby po kosti v Yuzhnoy Rusi. Drevnosti 2014-2015. Charkovskiy istoriko-arkheologicheskiy ezhegodnik 13, 244-256.
Sergeyeva M. S. 2017. Virobi z kistki ta rogu z gorodishcha Ivan-Gora (za kolekciyami Arkheologichnogo muzeyu Institutu arkheologii NAN Ukraini i Rzhishchivskogo arkheologo-krayeznavchogo muzeyu). Arkheologiya i davnia istoriya Ukraini 3/24, 121-132.
Stolarczyk T. 2014. C 21. Igielnik w kształcie ryby. In J. Harasimowicz (ed.), Szlachta na Śląsku. Średniowiecze i czasy nowożytne. Katalog wystawy – Rycerz wolności, strażnicy prawa. Dresden: Sandstein Verlag, 171.
Sytaya L. 2019. Igolniki iz Shestovitsy. In O. B. Kovalenko, O. P. Motsia, S. L. Laevskiy, O. Ya Rachno, V. M. Skorochod and L. V. Yasnovska (eds), Buti pershim. Zbirnik materialiv Pyatich Samokvasivskich chitan, prisvyachenich pamyati arkheologa, istorika, pedagoga – Volodimira Petrovicha Kovalenka. Chernigiv, 105-112.
Sztych D. 2011. Ryby – zwierzęta symboliczne i mityczne. Życie Weterynaryjne 86/12, 976-983.
Thunmark-Nylén L. 2006. Die Wikingerzeit Gotlands 3/1. Stockholm: Kungl. Vitterhets Historie och Antikvitets Akademien.
Wachowski K. 2002. Nadelbüchsen als Beispiel für den kulturellen Interaktionismus im mitteleuropäischen Europa. Archaeologia Silesiae 1, 231-237.
Zielonka B. 1951. Igielnik rogowy z Kruszwicy, w pow. inowrocławskim. Z otchłani wieków 20/5-6, 104.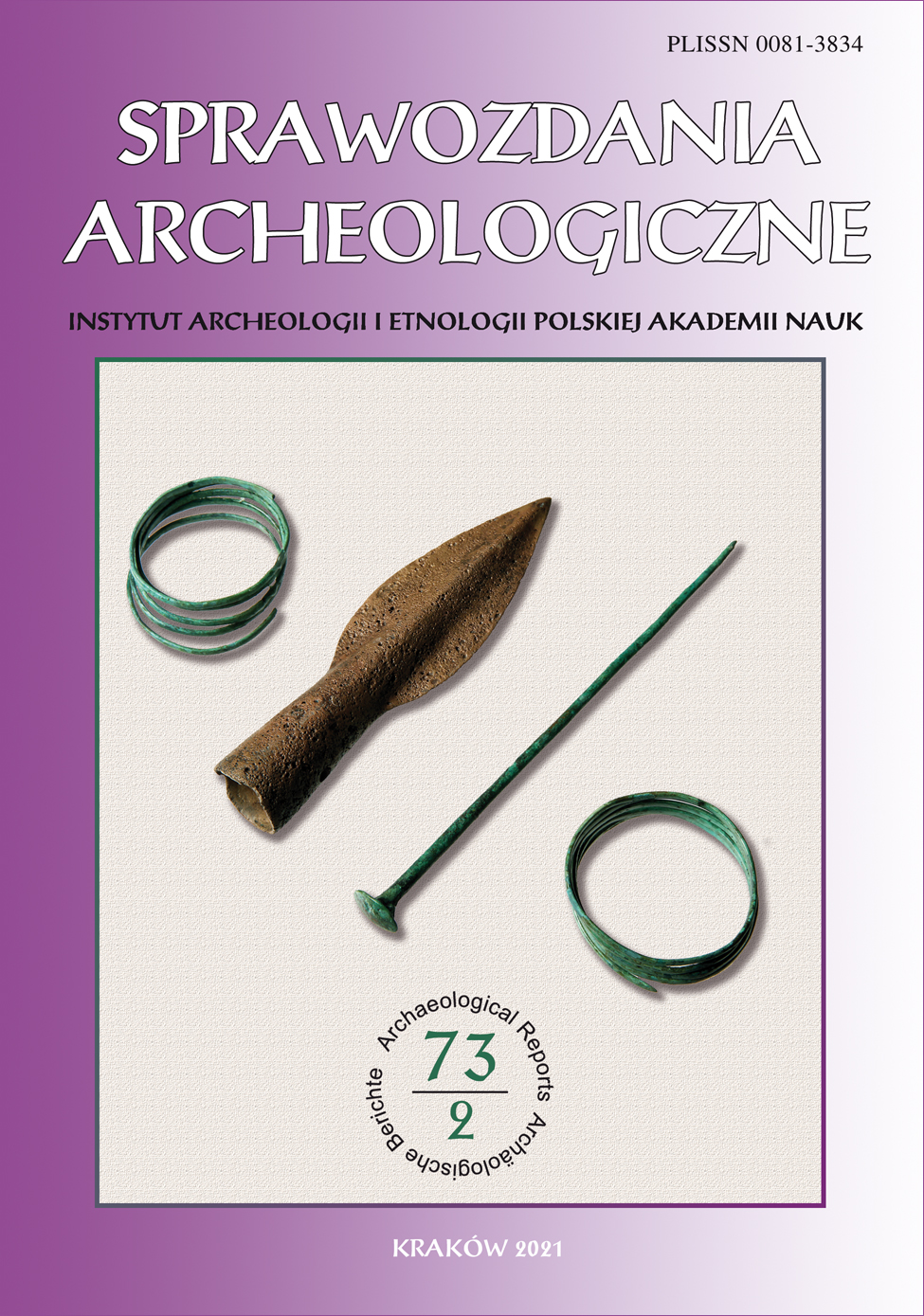 Downloads
How to Cite
Janowski, A. (2021). High medieval fish-shaped needle case from Wolin. From the Studies on the Culture of the Elite. Sprawozdania Archeologiczne, 73(2). https://doi.org/10.23858/SA/73.2021.2.2757
Section
Field Survey and Materials
License
Copyright (c) 2021 Sprawozdania Archeologiczne
This work is licensed under a Creative Commons Attribution 4.0 International License.