Comparison of Different Gouge Collections from Central Sudan
Katarína Kapustka

Institute of Archaeology of the Czech Academy of Sciences; Letenská 4, Praha 1 – Malá Strana, 11801, Czech Republic

https://orcid.org/0000-0003-3174-5614

Małgorzata Winiarska-Kabacińska

Archaeological Museum in Poznan; Wodna Street 27, 61-781 Poznan, Poland
Keywords:
Nile valley, central Sudan, Neolithic, lithic technology, use wear
Abstract
This article represents a basic comparison of gouge collections from three different sites (Esh Shaheinab, Fox Hill and Kadero). These sites have produced important collections of lithics from the Early Neolithic period in central Sudan. Gouges were chosen as an important marker of various activities, and these were studied on the basis of examining this type of artefact. This paper presents basic observations on the technology and function of these artefacts.
Downloads
Download data is not yet available.
References
Arkel, A.J. 1953. Shaheinab. An account of the excavation of a Neolithic occupation site carried out for the Sudan Antiquities Service in 1949–50. London
Caneva, I. 1988. El. Geili. The history of a Middle Nile Environment 7000 BC–1500 AD. Oxford. Cambridge Monographs in African Archaeology 29. British Archaeological Reports International Series 424.
Caton-Thompson G. and Gardner E.W. 1934. The Desert Fayum. London.
Chłodnicki, M., Kobusiewicz, M. and Kroeper, K. (eds) 2011. Kadero: The Lech Krzyżaniak excavations in the Sudan. Poznań.
Haaland, R. 1981. Migratory herdsmen and cultivating women. The structure of Neolithic seasonal adaptation in the Khartoum Nile environment. Bergen.
Kapustka, K., Lisá, L., Bajer, A., Buriánek, D., Varadzin, L. and Varadzinová, L. 2019. Gouges: Towards the Understanding of an Iconic Artefact of the Early Neolithic Period in Central Sudan. African Archaeological Review 36: 505–534.
Kobusiewicz, M. 2011. Lithic implements. In M. Chłodnicki, M. Kobusiewicz and K. Kroeper (eds), Kadero: The Lech Krzyżaniak excavations in the Sudan, 267–297. Poznań.
Krzyżaniak, L. 1992. Schyłek pradziejów w środkowym Sudanie. Poznań. Studies in African Archaeology 3.
Magid, A.A. 1989. Plant Domestication in the Middle Nile Basin. An Archaeoethnobotanical Case Study. Oxford. Cambridge Monographs in African Archaeology 35. British Archaeological Reports 523.
Tixier, J. 1962. Le "Ténéréen" de l´Adrar Bous III. In H.J. Hugot (ed.), Missions Berliet Ténéré-Tchad, 333–348. Paris, AMG.
Varadzinová, L., Varadzin, L., Kapustka, K. and Pacina, J. 2018. Výzkum lokality Liščí kopec (SBK.W-20) v pohoří Sabaloka: poznatky z výzkumné sezóny 2017. Pražské egyptologické studie 20: 35–45.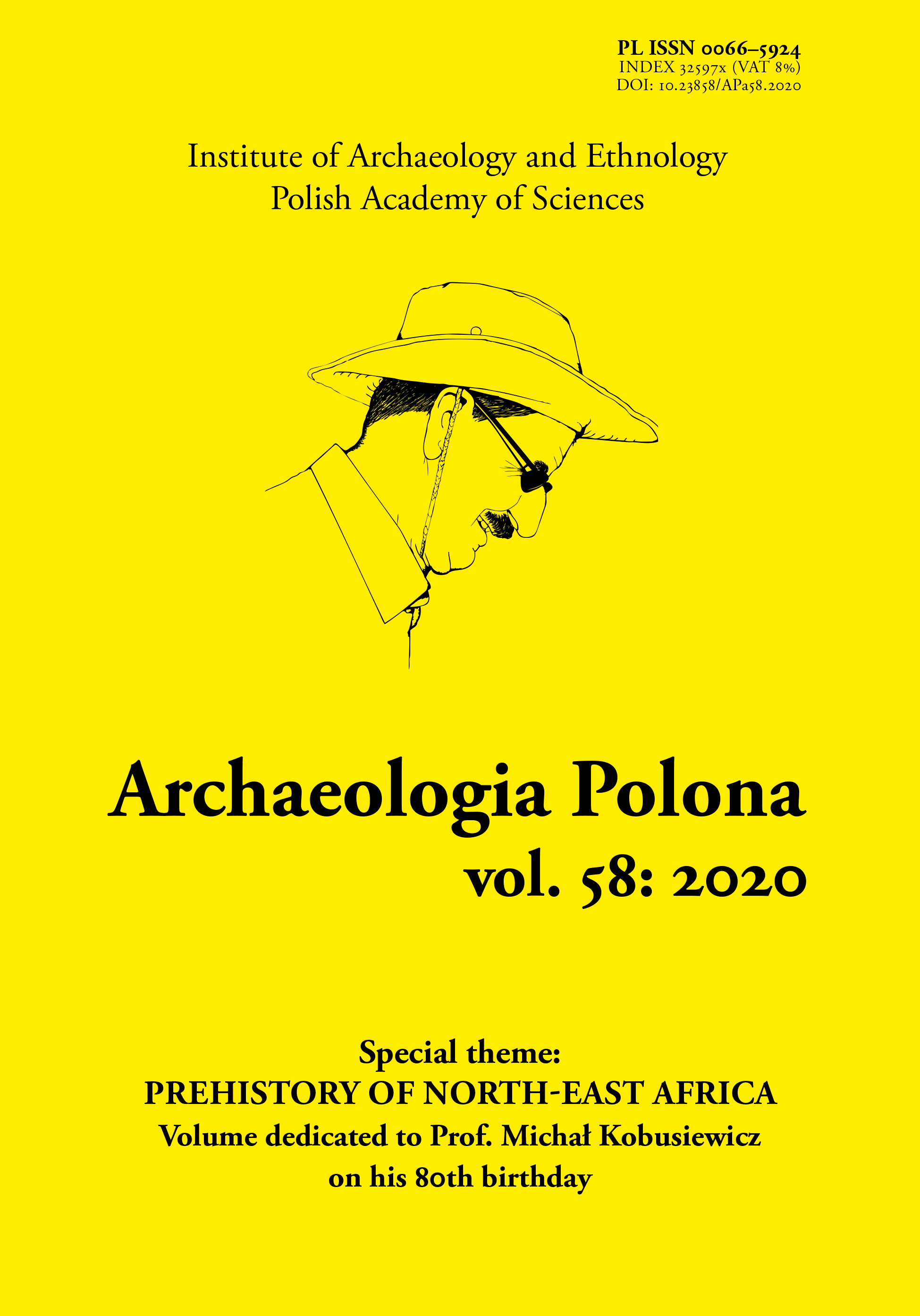 How to Cite
Kapustka, K., & Winiarska-Kabacińska, M. (2020). Comparison of Different Gouge Collections from Central Sudan. Archaeologia Polona, 58, 165 -. https://doi.org/10.23858/APa58.2020.009
Copyright (c) 2020 Archaeologia Polona
This work is licensed under a Creative Commons Attribution 4.0 International License.