Editorial Team
Dagmara H. Werra



Editor. Archaeologist. Ethnologist. An employee of the Institute of Archeology and Ethnology of the Polish Academy of Sciences as an adjunct at the Autonomous Research Laboratory for Prehistoric Flint Mining. In her professional career, she deals with prehistoric flint mining, the identification and use of siliceous rocks by prehistoric communities, as well as with the use of flint in the Metal Ages and in modern times (gunflints). She graduated from archeology and ethnology (BA) at the Nicolaus Copernicus University in Torun. In 2013, she obtained a Ph.D. in archeology. Project manager on the characteristics of 'chocolate' flint and about obsidian artifacts. She participated and conducted archaeological research at numerous archaeological sites, including those associated with flint mining. Since 2018 Vice-President of UISPP Commission on Flint Mining in Pre- and Protohistoric Times. From 2017 Editor-In-Chief of the Archaeologia Polona.

Marzena Woźny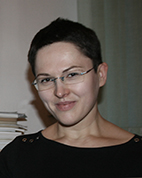 Associate Editor. Archaeologist. Historian. She deals with the history of Central European archeology. She studies the relationships between scholars, the history of the institution, and the archaeological thought. Author of over forty articles on these issues and three books – Between generations. An interview with Professor Jan Machnik concluded by Marzena Woźny; Włodzimierz Demetrykiewicz (1859-1937). A prehistorian from the turn of the eras as well as "Dear Colleague and me". Correspondence between prehistorians Włodzimierz Demetrykiewicz and Józef Kostrzewski. 1913-1933. She graduated from history and then studies in museology at the Jagiellonian University in Cracow. In 2015, she obtained a Ph.D. degree in archeology at the Institute of Archeology and Ethnology of the Polish Academy of Sciences in Warsaw. Trainee at the National Museum of Archeology in Malta. She is currently working on a dissertation devoted to the history of Lesser Poland archeology in the 19th century. She is also interested in the history of gunflint mining. Curator, head of the Archives at the Archaeological Museum in Krakow. Co-editor (with Dagmara H. Werra) of the book Between History and Archaeology. Papers in honour of Jacek Lech, Archaeopress, Oxford 2018.
Zbigniew Kubiatowski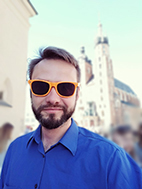 Public Engagement and Press Administrator. Archaeologist. Cultural and science manager. An employee of the Institute of Archeology and Ethnology of the Polish Academy of Sciences as an PR specialist. President of the board of the Friends Foundation of the Institute of Archeology and Ethnology PAS. He graduated from archeology on Warsaw Univercity in 2008. In his professional career, he deals with public archaeology, and promotion of archaeology. Author of many archaeological films exhibitions and presentations.
Robert Ryndziewicz



Secretary. Archaeologist specialised in the near-surface geophysics (mainly GPR, Magnetometry, and Earth Resistance) applied for the archaeological prospection. Co-investigator in numerous research projects in Sudan, Egypt, Spain, Italy, Ukraine, Jordan, and Poland. Since 2015 member of the International Society of Archaeological Prospection.
Paul Barford
Linguistic consultation
Editorial Board
Prof. Peter Bogucki - Princeton University, USA
Prof. Martin Gojda - University of Western Bohemia, Pilsen, Czech Republic
Prof. Anthony Harding - University of Exeter, Great Britain
Prof. Maria Iacovou - University of Cyprus, Nicosia
Prof. Carola Metzner-Nebelsick - University of Munich, Germany
Prof. Bjørnar Olsen - University of Tromsø, Norway
Prof. Guido Vannini - University of Florence, Italy
List of Reviewers Archaeologia Polona 59: 2021
Miguel Busto Zapico (Granada, Spain), Ladislav Čapek (Plzen, Czechia), Joanna Dąbal (Gdańsk, Poland), Volker Demuth (Stavanger, Norway), Ivar Leimus (Tallinn, Estonia), Marcos Martinón-Torres (Cambridge, United Kingdom), Natascha Mehler (Tubingen, Germany), Katarzyna Meyza ( Warsaw, Poland), Dariusz Rozmus (Sosnowiec, Poland), Erki Russow (Tallinn, Estonia), Krystyna Sulkowska-Tuszyńska (Toruń, Poland), Grzegorz Śnieżko (Warsaw, Poland), Samuel Španihel (Vsetín, Czechia), Miglė Urbonaitė-Ubė (Klaipeda, Lithuania), Pavel Vařeka (Plzen, Czechia)
List of Reviewers Archaeologia Polona 58: 2020
Mirosław Furmanek (Wroclaw), Elena Garcea (Cassino), Maria Gatto (Leicester), Bolesław Ginter (Cracow), Tomasz Herbich (Warsaw), Karla Kroeper (Berlin), Alice Leplongeon (Leuven), Maria Kaczmarek (Poznan), Andrea Manzo (Naples), Arkadiusz Marciniak (Poznan), Henryk Paner (Gdansk), Tomasz Płonka (Wroclaw), Włodzimierz Rączkowski (Poznan), Andrzej Rozwadowski (Poznan), Jiří Svoboda (Brno), Philip Van Peer (Leuven), András Zboray (Budapest)
List of Reviewers Archaeologia Polona 57: 2019
Kamil Adamczak (Toruń), Michael Brandl (Vienne), Janusz Budziszewski (Warsaw), Ewa Bugaj (Poznań), Pavel Burgert (Prague), Tomasz Chmielewski (Gdańsk), Agnieszka Czekaj-Zastawny (Cracow), Mirosław Furmanek (Wrocław), Tadeusz Galiński (Szczecin), Sławomir Kadrow (Rzeszów), Jan Kolář (Brno), Aleksander Kośko (Poznań), Janusz Kruk (Cracow), Krzysztof Kurzyk (Gdańsk), Jerzy Libera (Lublin), Marek Nowak (Cracow), Ilia Palaguta (Sankt Petersburg), Piotr Papiernik (Łódź), Andrzej Pelisiak (Rzeszów), Dominik K. Płaza (Sandomierz), Agnieszka Przybył (Wrocław), Joanna Pyzel (Gdańsk), Iwona Sobkowiak-Tabaka (Poznań), Marián Soják (Nitra), Marzena Szmyt (Poznań), Arkadiusz Tabaka (Ostrów Lednicki), Aleh Tkachou Minsk), Maciej Trzeciecki (Warsaw), Marcin Wąs (Gdańsk), Jarosław Wilczyński (Cracow), Stanisław Wilk (Jelenia Góra), Albert Zastawny (Cracow)
List of Reviewers Archaeologia Polona 56: 2018
Katalin T. Biró (Budapest), Clive Bonsal (Edinburgh), Tomasz Boroń (Warsaw), Michael Brandl (Vienna), Pavel Burgert (Prague), Piotr Chachlikowski (Poznań), Tomasz Herbich (Warsaw), Richard E. Hughes (Portola Valley), Witold Grużdź (Warsaw), Hanna Kowalewska-Marszałek (Warsaw), Jacek Lech (Warsaw), Jerzy Libera (Lublin), Jolanta Małecka-Kukawka (Toruń), Zsolt Meszter (Budapest), Adrian Nemergut (Nitra), Piotr Papiernik (Łódź), Ivan Pavlů (Prague), Andrzej Pelisiak (Rzeszów), Tomasz Płonka (Wrocław), Marta Połtowicz-Bobak (Rzeszów), Łukasz Pospieszny (Poznań), Antonín Přichystal (Brno), Joanna Pyzel (Gdańsk), Katarzyna Pyżewicz (Poznań), Romuald Schild (Warsaw), Marcin Szeliga (Lublin), Paweł Valde-Nowak (Cracow), Marcin Wąs (Gdańsk), Jarosław Wilczyński (Cracow), Andrzej Wiśniewski (Wrocław), Tadeusz Wiśniewski (Lublin), Anna Zakościelna (Lublin)
List of Reviewers Archaeologia Polona 55: 2017
Katalin T. Biró (Budapest), Maria Deka (Warszawa), Artur Błażejewski (Wrocław), Lech Marek (Wrocław), Sławomir Moździoch (Wrocław), Aleksandra Pankiewicz (Wrocław), Aleksander Paroń (Wrocław), Sylwia Rodak (Wrocław), Błażej Stanisławski (Wrocław), Henryk Stoksik (Wrocław), Paweł Valde-Nowak (Kraków), Mateusz Żmudziński (Wrocław)
List of Reviewers Archaeologia Polona 54: 2016
Katalin Biró (Budapeszt), Michael Brandl (Vienna), Ivan Cheben (Nitra), Jacek Lech (Warszawa), Jolanta Małecka-Kukawka (Toruń), András Markó (Budapeszt), Miroslaw Masojć (Wrocław), Zdeňka Nerudová (Brno), Ryan Parish (University of Memphis, USA), Andrzej Pelisiak (Rzeszów), Antonín Přichystal (Brno), Joanna Pyzel (Gdańsk), Katarzyna Pyżewicz (Poznań), Romuald Schild (Warszawa), Rafal Siuda (Warsaw), Iwona Sobkowiak-Tabaka (Poznań), Christoper Stevenson (Virginia Commonwealth University, Richmond, USA), Zofia Sulgostowska (Warsaw), Marcin Szeliga (Lublin), Paweł Valde-Nowak (Kraków), Anna Zakościelna (Lublin)