The First Notes on the Second Khartoum Mesolithic Cemetery at Jebel Sabaloka (Sudan)
Lenka Varadzinová

Czech Institute of Egyptology, Faculty of Arts, Charles University, Celetná 20, 110 00 Prague 1, Czech Republic

Ladislav Varadzina

Czech Institute of Egyptology, Faculty of Arts, Charles University, Celetná 20, 110 00 Prague 1, Czech Republic; Institute of Archaeology of the Czech Academy of Sciences, Prague, Letenská 4, 118 01 Prague 1, Czech Republic

https://orcid.org/0000-0003-2650-6168
Keywords:
Communal burial grounds, early Holocene hunter-gatherers, Early Khartoum culture, Sixth Nile Cataract, Sudan
Abstract
The site of Fox Hill (SBK.W-20) constitutes the second locality in the Sixth Nile Cataract region where a large communal burial ground of Early Khartoum hunter-gatherers was partially uncovered. In several aspects, this cemetery resembles in its characteristics the Early Khartoum burial ground explored between 2012 and 2015 at the site of Sphinx (SBK.W-60), located some 4 km to the north-east. The co-occurrence of these burial grounds with intensively occupied coeval settlements as well as the characteristics of the burial rite enable us to interpret these complex sites not only as mere places of life and death, but also as centres of collective identity based on social memory.
Downloads
Download data is not yet available.
References
Arkell, A. J. 1953. Shaheinab. An Account of the Excavation of a Neolithic Occupation site carried out for the Sudan Antiquities Service in 1949–50. London.
Chłodnicki, M., Kobusiewicz, M. and Kroeper, K. (eds) 2011. Kadero. The Lech Krzyżaniak Excavations in the Sudan. Poznań. Studies in African Archaeology 10.
Honegger, M. 2004. Settlement and cemeteries of the Mesolithic and Early Neolithic at el-Barga. Sudan and Nubia 8: 27–32.
Reinold, J. 2001. Kadruka and the Neolithic in the Northern Dongola Reach. Sudan and Nubia 5: 2–10.
Salvatori, S., Usai, D. and Lecointe, Y. (eds). 2016. Ghaba. An Early Neolithic Cemetery in Central Sudan. Frankfurt am Main.
Suková, L. and Varadzin, L. 2012. Preliminary report on the exploration of Jebel Sabaloka (West Bank), 2009–2012. Sudan and Nubia 16: 118–131.
Varadzinová, L. and Varadzin, L. 2017. Exploration of the site of Sphinx (SBK.W-60): findings of the 2014 and 2015 field seasons. Sudan and Nubia 21: 23–33, 48–49.
Varadzinová, L., Varadzin, L., Kapustka, K. and Pacina, J. 2018. Výzkum lokality Liščí kopec (SBK.W-20) v pohoří Sabaloka: poznatky z výzkumné sezóny 2017. Pražské egyptologické studie 20: 35–45.
Varadzinová, L., Varadzin, L., Crèvecoeur, I., Kapustka, K., McCool, J.-P. and Sůvová, Z. 2019. Výzkum pravěkého osídlení v pohoří Sabaloka v centrálním Súdánu: poznatky z výzkumné sezóny 2018. Pražské egyptologické studie 22: 43–53.
Varadzinová, L., Varadzin, L., Ambrose, S. H., Crevecoeur, I., Havelková, P., Juřičková, L., Kapustka, K., Pacina, J., Pokorný, P., Řídký, J. and Wang, H. in prep. The emergence of communities of the dead in the Early Khartoum culture of central Sudan: Evidence from the site of Sphinx at the Sixth Nile Cataract.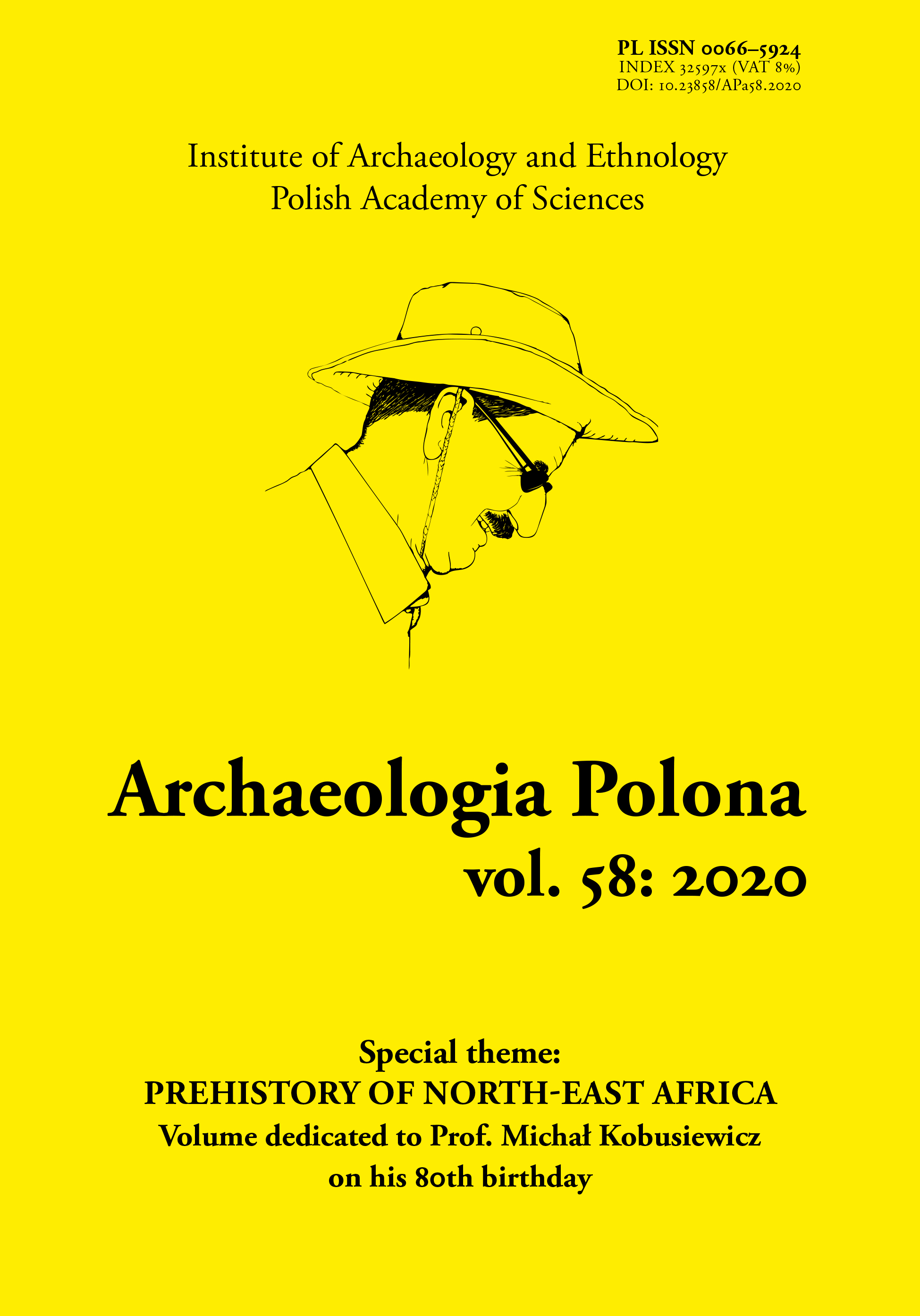 How to Cite
Varadzinová, L., & Varadzina, L. (2020). The First Notes on the Second Khartoum Mesolithic Cemetery at Jebel Sabaloka (Sudan). Archaeologia Polona, 58, 121 -. https://doi.org/10.23858/APa58.2020.007
Copyright (c) 2020 Archaeologia Polona
This work is licensed under a Creative Commons Attribution 4.0 International License.