Lithic raw materials in Prehistoric Times of Eastern Central Europe, Antonín Přichystal, Brno 2013 : [recenzja]
Downloads
Download data is not yet available.
References
Brandl, M., Hauzenberger, Ch., Postl, W. and Trnka, G. 2014. Radiolarite studies at Krems-Wachtberg (Lower Austria): Northern Alpine versus Carpathian lithic resources, Quaternary International 351, 146–162
Budziszewski, J. 2008. Stan badań nad występowaniem i pradziejową eksploatacją krzemieni czekoladowych. In W. Borkowski, J. Libera, B. Sałacińska, and S. Sałaciński (eds), Krzemień czekoladowy w pradziejach. Materiały z konferencji w Orońsku, 08-10.10.2003, Warszawa-Lublin, Studia nad Gospodarką Surowcami Krzemiennymi w Pradziejach 7, 33–106
Budziszewski, J. and Włodarczak, P. 2010. Kultura pucharów dzwonowatych na Wyżynie Małopolskiej, Kraków
Chachlikowski, P., 1994. Późnoneolityczne wybierzysko surowców skał niekrzemiennych w miejscowości Goszczewo gm. Aleksandrów Kujawski, woj. Włocławek, stanowisko 13, Folia Praehistorica Posnaniensia 4, 59–117
Chachlikowski, P. 1997. Kamieniarstwo późnoneolitycznych społeczeństw Kujaw, Poznań
Cholewa, P. 2004. Rola sudeckiego zaplecza surowcowego w kamieniarstwie neolitycznym na Śląsku, Wrocław
Jochemczyk, L. 2002. Petrograficzne badania paleolitycznych narzędzi kamiennych ze stanowiska archeologicznego na Górze Zamkowej w Cieszynie. In J. Garncarski (ed.), Starsza i środkowa epoka kamienia w Karpatach polskich, Krosno, 247–253
Kaczanowska, M. and Kozłowski, J. K. 1976. Studia nad surowcami krzemiennymi południowej części Wyżyny Krakowsko-Częstochowskiej, Acta Archaeologica Carpathica 16, 201–219
Lech, J. 1981. Flint mining among the early farming communities of Poland. In F.H.G. Engelen (ed.), Third Internationale Symposium over Vuursteen, 24–27 Mei 1979 – Maastricht, Staringia 6, Maastricht, 39–45
Přichystal, A. 2009. Kamenné suroviny v pravěku východní části střední Evropy, Brno
Schild, R. 1971. Lokalizacja prahistorycznych punktów eksploatacji krzemienia czekoladowego na północno-wschodnim obrzeżeniu Gór Świętokrzyskich, Folia Quaternaria 39, 1–60
Skoczylas, J. 2001. Zróżnicowanie użytkowania czwartorzędowych surowców skalnych w Wielkopolsce w neolicie i we wczesnym średniowieczu. In A. Karczewski and Z. Zwoliński (eds), Funkcjonowanie geoekosystemów w zróżnicowanych warunkach morfoklimatycznych – monitoring, ochrona, edukacja, Poznań, 491–501
Woźniak, P., Sikora, R., Lasoń, K., Markowiak, M., Haisig, J., Szulc, J. and Hagdorn, J. 2010. Geopark Góra Św. Anny – udokumentowanie i propozycja jego ochrony, Sosnowiec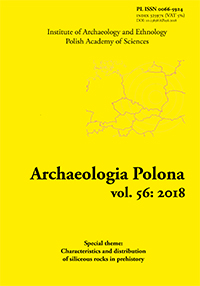 Downloads
How to Cite
Kerneder-Gubała, K. (2018). Lithic raw materials in Prehistoric Times of Eastern Central Europe, Antonín Přichystal, Brno 2013 : [recenzja]. Archaeologia Polona, 56, 211–219. Retrieved from https://journals.iaepan.pl/apolona/article/view/266
License
This work is licensed under a Creative Commons Attribution-NonCommercial-NoDerivatives 4.0 International License.
I declare that the manuscript sent is original, has not been published before and is not currently being considered for publication elsewhere.
I confirm that the manuscript has been read and approved by all the authors mentioned and that there are no other persons who would meet the criteria for authorship but were not mentioned. In addition, I confirm that the order of the authors listed in the manuscript has been approved by all the authors.
I confirm that the correspondent author is the only contact with the Editorial Board in the editorial process, and is responsible for communicating with other authors and informing them about the progress, corrections and final approval of the article.