A Newly Discovered Source of 'Banded Flint' in the Polish Lowlands
Jacek Kabaciński

Iwona Sobkowiak-Tabaka
Keywords:
'Pęgów flint', Instrumental Neutron Activation Analysis (INAA), Koło Basin
Abstract
Rescue excavations at an artefact manufacturing site at Pęgów, Poddębice district, dated to the modern period, have produced several dozens of lumps of flint. The flint exhibits greyish and brownish bands and is macroscopically similar to the well-known banded flint occurring in the area of Krzemionki Opatowskie, Ostrowiec Świętokrzyski district. Artefacts made from this tentatively named 'Pęgów flint' have been identified in archaeological assemblages of different chronological age in the Koło Basin. To verify whether macroscopically similar nodules and artefacts come from the same outcrop and if the artefacts made of banded flint are made of the Krzemionki Opatowskie flint, instrumental neutron activation analysis (INAA) was conducted on samples of Pęgów flint and banded raw material from Krzemionki Opatowskie. Although most of the obtained results fall below INAA detection limits the compostion of chromium content in each sample may reflect common origin of all the analysed pieces from Pęgów. INAA data suggest that the artifacts made of banded flint were mot made from Krzemionki Opatowskie material.
Downloads
Download data is not yet available.
References
Bolewski, A., Budkiewicz, M. and Wyszomirski, P. 1991. Surowce ceramiczne. Warszawa.
Budziszewski, J. and Michniak, R. 1984. Z badań nad występowaniem, petrograficzną naturą oraz prehistoryczną eksploatacją krzemieni pasiastych w południowym skrzydle niecki Magoń-Folwarczyska. Wiadomości Archeologiczne 49: 151–189.
Chachlikowski, P. 1994. Późnoneolityczne wybierzysko surowców skał niekrzemiennych w miejscowości Goszczewo, gm. Aleksandrów Kujawski, pow. Włocławek, stanowisko 13. Folia Praehistorica Posnaniensia 6: 59–121.
Chmielewska, M. 1978. Późny paleolit pradoliny warszawsko-berlińskiej. Wrocław.
Chmielewski, D. 2001. Zespół pieców wapienniczych w Pęgowie. Unpublished manuscript, Institute of Archaeology and Ethnology, Polish Academy of Science.
Ginter, B. 1974. Wydobywanie, dystrybucja surowców i wyrobów krzemiennych w schyłkowym paleolicie północnej części Europy Środkowej. Przegląd Archeologiczny 22: 5–122.
Glascock, M.D. and Neff, H. 2003. Neutron activation analysis and provenance research in archaeology. Measurement Science and Technology 14: 1516–1526.
Gorączko, M. and Gorączko, A. 2013. Cechy regionalne w budownictwie na terenie gminy Uniejów. Biuletyn Uniejowski 2: 53–65.
Górska, M. 2004. Geomorfologia stanowisk archeologicznych badanych przez Instytut Archeologii i Etnologii PAN Zespół ds. Ratownictwa Archeologicznego na trasie autostrad A1, A2 i A4. Unpublished manuscript, Institute of Archaeology and Ethnology, Polish Academy of Science.
Grafka, O., Siuda, R. and Werra, D.H. 2014. First data on organic compounds of 'chocolate' flint from Holy Cross Mountains Mesozoic margin. Mineralogia – Special Papers 42: 53–54.
Kabaciński, J., Bobrowski, P. and Sobkowiak-Tabaka, I. 2009. Cichmiana, stanowisko 2 (AUT 441). In J. Kabaciński and I. Sobkowiak-Tabaka (eds), Późny paleolit i mezolit basenu środkowej Warty. Ratownicze Badania archeologiczne Instytutu Archeologii i Etnologii PAN, Oddział w Poznaniu I, 111–378. Poznań.
Hughes, R.E., Werra, D.H. and Siuda, R. 2016. On the Chemical Composition of 'Chocolate' Flint from Central Poland. This volume.
Kabaciński, J. and Sobkowiak-Tabaka, I. 2006. Wytwórczość krzemieniarska społeczności kultury łużyckiej. In J. Kabaciński (ed.), Osadnictwo pradziejowe i wczesnośredniowieczne i nowożytne na stanowisku nr 1 (AUT 23) w Powodowie II, gm. Wartkowice, pow. poddębicki, woj. łódzkie, 454–484. Poznań. Institute of Archaeology and Ethnology, Polish Academy of Science.
Kondracki, J. 2009. Geografia regionalna Polski. Warszawa.
Kozłowski, S. 1986. Surowce skalne Polski. Warszawa.
Krajcarz, M.T., Krajcarz, M., Sudoł, M. and Cyrek, K. 2012. From far or from near? Sources of Kraków-Częstochowa banded and chocolate silicite raw material used during the stone age in Biśnik Cave (southern Poland). Anthropologie 50 (4): 411–425.
Krajcarz, M.T., Sudoł, M., Krajcarz, M. and Cyrek, K. 2014. Wychodnie krzemienia pasiastego na Wyżynie Ryczowskiej (Wyżyna Krakowsko-Częstochowska). In D. Piotrowska, W. Piotrowski, K. Kaptur and A. jedynak (eds), Górnictwo z epoki kamienia:Krzemionki – Polska – Europa. W 90. Rocznicę odkrycia kopalni w Krzemionkach, 225–244. Ostrowiec Świętokrzyski. Silex et ferrum I.
Król, P. and Migaszewski, Z.A. 2009. Rodzaje, występowanie i geneza krzemieni. Zarys problematyki. In J. Król (ed.), Historia krzemienia, 12–45. Kielce.
Krukowski, S. 1920. Pierwociny krzemieniarskie górnictwa, transportu i handlu w holocenie Polski, cz. 1. Wiadomości Archeologiczne 5: 185–206.
Krukowski, S. 1922. Pierwociny krzemieniarskie górnictwa, transportu i handlu w holocenie Polski, cz. 2. Wiadomości Archeologiczne 7: 1–34.
Michniak, R. 1980. Petrografia i geneza ciemnych krzemieni z dolnoturońskich osadów okolic Ożarowa nad środkową Wisłą. Archiwum Mineralogiczne 36: 83–106.
Migaszewski, Z.M., Gałuszka, A., Durakiewicz, T. and Starnawska, E. 2006. Middle Oxfordian – Lower Kimmeridgian chert nodules in the Holy Mountains, south-central Poland. Sedimentary Geology 187: 11–28.
Mizerski, W. 2009. Geologia dynamiczna. Warszawa.
Nowacki, K. 1995. Objaśnienia do szczegółowej mapy geologicznej Polski 1:50 000. Arkusz Dąbie (551). Warszawa.
Pieńkowski, G. and Gutowski, J. 2004. Geneza krzemieni górnego Oksfordu w Krzemionkach Opatowskich. Tomy Jurajskie II, 29–36. Warszawa.
Samsonowicz, J. 1923. O złożach krzemieni w utworach jurajskich północno-wschodniego zbocza Gór Świętokrzyskich. Wiadomości Archeologiczne 8: 17–24.
Samsonowicz, J. 1953. Era mezozoiczna w Polsce (z wyjątkiem Karpat). In M. Książkiewicz and J. Samsonowicz (eds), Zarys geologii Polski, 90–130. Warszawa.
Schild, R. 1971. Lokalizacja prahistorycznych punktów eksploatacji krzemienia czekoladowego na północno-wschodnim obniżeniu Gór Świętokrzyskich. Folia Quaternaria 39: 1–61.
Seroczyński, Z. and Wysocka, M. 2006. Osadnictwo z okresu nowożytnego In Osadnictwo pradziejowe, średniowieczne i nowożytne na stanowisku nr 2 (AUT 461) w Pęgowie, gm. Uniejów, pow. Turek. 43–56. Poznań. Unpublished manuscript, Institute of Archaeology and Ethnology, Polish Academy of Science.
Stankowski, W. 1995. Wstęp do geologii kenozoiku. Poznań.
Verri, G., Barkai, R., Gopher, A., Hass, M., Kubik, P.W., Paul M., Ronen, A., Weiner, S. and Boaretoo, E. 2005. Flint procurement strategies in the Late Lower Palaeolithic recoreded by in situ produced cosmogenic 10Be in Tabun and Quesem Caves (Israel). Journal of Archaeological Science 32: 207–213.
Ziomek, J. 2002. Atlas miasta Łodzi, Plansza VII. Geologia i gleby, mapa 2. Geologia – utwory starsze od czwartorzędu, http://mapa.lodz.pl/index.php?strona=atlas.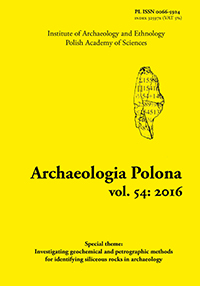 How to Cite
Kabaciński, J., & Sobkowiak-Tabaka, I. (2016). A Newly Discovered Source of 'Banded Flint' in the Polish Lowlands. Archaeologia Polona, 54, 51-65. Retrieved from https://journals.iaepan.pl/apolona/article/view/429
This work is licensed under a Creative Commons Attribution-NonCommercial-NoDerivatives 4.0 International License.