A New Find of a Falchion from Central Poland
Keywords:
falchion, weapon, Central Poland, Middle Ages, 15th century
Abstract
This paper discusses a find of a falchion from the neighbourhood of Gieczno in the Łódzkie Voivodeship. This artefact comes from a sequestration of the collection of an illegal treasure hunter. This 15th century falchion with a conventional blade form stands out with its hilt which is provided with a cap-like pommel, and first of all with a scales rivet which is shaped as an ornamental rosette.
Downloads
Download data is not yet available.
References
Glinianowicz M. 2005. Stan badań nad uzbrojeniem późnośredniowiecznym w Małopolsce. "Acta Militaria Mediaevalia" 1, 143-164.
Głosek M. 1990. Broń biała długa. In: A. Nadolski (ed.), Uzbrojenie w Polsce średniowiecznej 1350-1450. Łódź, 111-124.
Głosek M. 1992. Interesujący zabytek broni białej z Poręby Wielkiej. "Rocznik Sądecki" 20, 35-40.
Gorczyca K. 2012. Kord z ratusza w Kole. In: I. Skierska (ed.), Królewskie miasto Koło. Studia w 650. rocznicę lokacji miasta. Koło, 195-213.
Krejsová J. 2007. Dochované fragmenty tesáků z hradu Rokštejna. "Archeologické výzkumy na Vysočině" 1, 266-276.
Ławrynowicz O., Rychter M. 2012. Ile wart jest kord z Warty. "Acta Militaria Mediaevalia" 8, 253-271.
Marek L. 2006. Średniowieczne i nowożytne kordy ze Śląska. "Acta Militaria Mediaevalia" 2, 189-206.
Marek L. 2008. Broń biała na Śląsku XIV-XVI wiek. Wratislavia Antiqua 10. Wrocław.
Marek L., Michalak A. 2008. Głowica kordu z wieży rycerskiej w Witkowie. In: B. Gruszka (ed.), Ad Oderam fluvium. Księga dedykowana pamięci Edwarda Dąbrowskiego. Zielona Góra, 449-467.
Mĕřínský Z. 2007. Hrad Rokštejn. Dějiny, stavební vývoj a výsledky čtvrtstoletí archeologického výzkumu 1981-2006. Brtnice, Brno.
Michalak A., Socha K. 2019. Late Medieval Weaponry Finds from Kostrzyn nad Odrą. Cultural and Historical Context. "Acta Militaria Mediaevalia" 14, 137-151.
Nadolski A. (ed.) 1978. Broń średniowieczna z ziem polskich. Warszawa.
Nekuda V. 1985. Mstěnice 1. Zaniklá středověká ves u Hrotovic. Hrádek – tvrz – dvůr – předsunutá opevnění. Brno.
Nierychlewska A., Sikora J. 2018. Późnośredniowieczna ceramika naczyniowa z gródka stożkowatego w Giecznie, gm. Zgierz, pow. zgierski, woj. łódzkie. "Acta Universitatis Lodziensis. Folia Archaeologica" 33, 113-151.
Polla B. 1962. Pamiatky hmotnej kultúry 15. storočia z Posádky pri Gajaroch. "Sbornik Slovenského Národného Múzea" 46, História 2, 107-140.
Žákovský P. 2011. Tesáky s prořezavánými záštitnými trny z moravských zbírek. "Archeologické rozhledy" 53(3), 501-516.
Žákovský P. 2012. Tesáky s člunkovitými záštitami a jejich postavení ve vývoji chladných zbraní. "Archaeologia historica" 37(2), 691-732.
Žákovský P. 2014. Tesáky a problematika jednosečných zbraní středověku a raného novověku. Katalog (mps. dizertační práce, Filozofická fakulta Masarykovy univerzity, Ústav archeologie a muzeologie, Brno / PhD typespript in the autor's archive).
Žákovský P., Hošek J., Bárta P. 2013. Dussacks with Broad Blades and a Probable Method of Their Manufacturing. In: L. Marek (ed.), Weapons Bring Peace? Warfare in Medieval and Early Modern Europe. Wratislavia Antiqua 18. Wrocław, 105-136.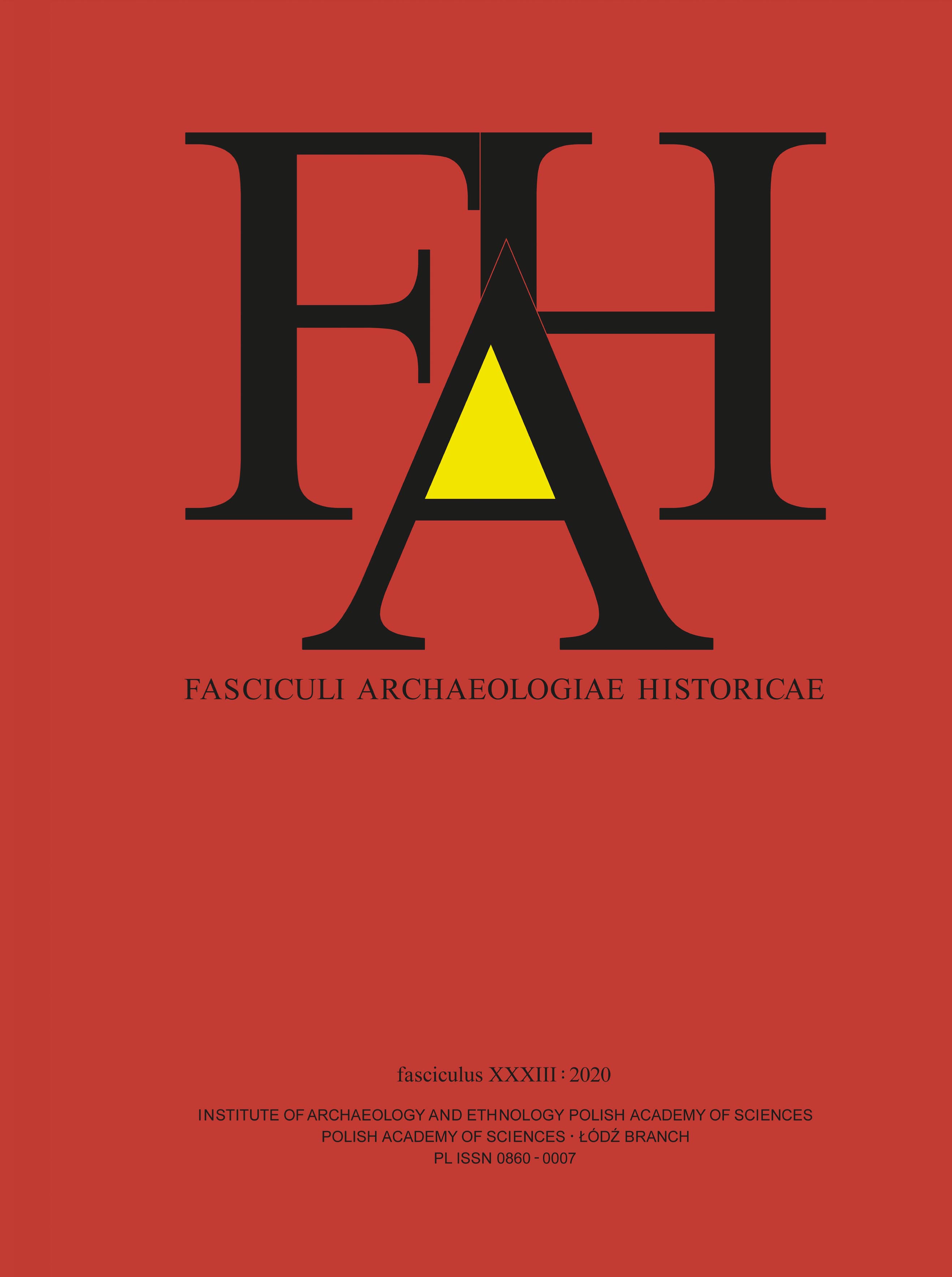 Downloads
How to Cite
Strzyż, P., & Skóra, K. (2020). A New Find of a Falchion from Central Poland. Fasciculi Archaeologiae Historicae, 33, 211–215. https://doi.org/10.23858/FAH33.2020.015
Section
Materials and Discoveries
License
Copyright (c) 2020 Fasciculi Archaeologiae Historicae
This work is licensed under a Creative Commons Attribution 4.0 International License.