Janusz Kruk's settlement archaeology: inspirations and determinants
Keywords:
Janusz Kruk, settlement archaeology, intellectual inspirations, Bronocice
Abstract
The settlement network and material remains of the south-eastern group of the Funnel Beaker culture play an important role in Janusz Kruk's settlement archaeology. In the context of that group and the entire culture, the settlement complex in Bronocice may be considered as the icing on the cake. This is a sufficient reason to attempt a reconstruction of that trend in research in the present volume.
I have already proposed an interpretation of Janusz Kruk's settlement archaeology and its selected elements in several papers (Kadrow 1992; 2010; 2013; Kadrow and Machnik 2001). This time, I am going to examine its determinants and intellectual inspirations.
Downloads
Download data is not yet available.
References
Barthes R. 2006. Śmierć autora. In A. Burzyńska and M. P. Markowski (eds.), Teorie literatury XX wieku. Antologia. Kraków: Znak, 355-356.
Bourdie P. and Wacquant L. J. D. 2001. Zaproszenie do socjologii refleksyjnej (= Terminus 21). Warszawa: Oficyna Naukowa.
Braudel F. 2004. Morze Śródziemne i świat śródziemnomorski w epoce Filipa II. Warszawa: Książka i Wiedza.
Compagnon A. 2010. Demon teorii. Literatura a zdrowy rozsądek. Gdańsk: słowo/obraz terytoria.
Clark J. G. D. 1939. Archaeology and Society. London: Methuen.
Clark J. G. D. 1957. Europa Przedhistoryczna. Warszawa:
Clarke D. L. 1977. Spatial Information in Archaeology. In D. L. Clarke (ed.), Spatial Archaeology. New York: Academic Press, 1-32.
Gadamer H.-G. 1967. Das Problem der Geschichte in der neuren deustchen Philosophie. In Kleine Schriften 1. Philosophie, Hermeneutik. Tübingen: Verlag J. C. B. Mohr (Siebeck), 1-10.
Geremek B. and Kula W. 2004. Fernand Braudel i "Morze Śródziemne". In F. Braudel, Morze Śródziemne i świat śródziemnomorski w epoce Filipa II. Warszawa: Książka i Wiedza, 6-13.
Godłowski K. 1960. Studia nad stosunkami społecznymi w okresach późnolateńskim i rzymskim w dorzeczu Odry i Wisły. Wrocław: Ossolineum.
Gradmann R. 1901. Das mitteleuropäische Landschaftsbild nach sejner geschichtlicher Entwicklung. Geographische Zeitschrift 7, 361-377.
Gradmann R. 1936. Vorgeschichtliche Landwirtschaft und Besiedlung. Geographische Zeitschrift 42, 378-386.
Gronenborn D. 2010. Climate, crises, and the "neolithisation" of Central Europe between IRD-Events 6 and 4. In D. Gronenborn and J. Petrasch (eds.), Die Neolithisierung Mitteleuropas. Internationale Tagung, Mainz 24. bis 26. Juni 2005. Mainz: Verlag der Römisch-Germanischen Zentralmuseums, 61-80.
Hensel W. and Milisauskas S. 1985. Excavations of Neolithic and Early Bronze Age Sites in South-Eastern Poland. Wrocław: Ossolineum.
Hodder I. and Orton C. 1976. Spatial Analisis in Archaeology. Cambridge: Cambridge University Press.
Jankuhn H. 1977. Einführung in die Siedlungsarchäologie. Berlin-New York: Walter de Gruyter.
Johnson G. A. 1977. Aspects of Regional Analysis in Archaeology. Annual Review of Anthropology 6, 479-508.
Kadrow S. 1992. Settlement Archaeology after Janusz Kruk. Poročilo o raziskovanju paleolita, neolita in eneolita v Sloveniji 20, 49-55.
Kadrow S. 2010. Antropopresja, neodarwinizm, globalne zmiany klimatyczne i teoria ewolucji społecznej Habermasa. In S. Czopek and S. Kadrow (eds.), Mente et rutro. Studia archaeologica Johanni Machnik viro doctissimo octogesimo vitae anno ab amicis, collegis et discipulis oblate. Rzeszów: Instytut Archeologii UR, 61-90.
Kadrow S. 2013. Regional research in archaeology in the light of selected traditions of geographical studies. In S. Kadrow and P. Włodarczak (eds.), Environment and subsistence – forty years after Janusz Kruk's "Settlement studies…" (= Studien zur Archäologie in Ostmitteleuropa/Studia nad Pradziejami Europy Środkowej 11). Rzeszów, Bonn 2013: Institute of Archaeology, Rzeszów University & Verlag Dr. Rudolf Habelt GmbH, 525-531.
Kadrow S. and Machnik J. 2001. Badania nad osadnictwem neolitycznym i wczesnobrązowym na obszarach lessowych Małopolski. In J. K. Kozłowski and E. Neustupný (eds.), Archeologia przestrzeni. Metody i wyniki badań struktur osadniczych w dorzeczach górnej Łaby i Wisły. Kraków: Polska Akademia Umiejętności, 111-125.
Kruk J. 1973. Studia nad neolitem wyżyn lessowych. Wrocław: Ossolineum.
Kruk J. 1980a. Gospodarka w Polsce południowo-wschodniej w V-III tysiącleciu p.n.e. Wrocław: Ossolineum.
Kruk J. 1980b. Remarks concerning the Geography of Settlement of Prehistoric Communities. In R. Schild (ed.), Unconventional Archaeology. New Approaches and Golas in Polish Archaeology. Wrocław: Ossolineum, 17-32.
Kruk J. 2008. Wzory przeszłości. Studia nad neolitem środkowym i późnym. Kraków: Instytut Archeologii i Etnologii PAN.
Kruk J., Milisauskas S., Alexandrowicz S. and Śnieszko Z. 1996. Osadnictwo i zmiany środowiska naturalnego wyżyn lessowych. Studium archeologiczne i paleogeograficzne nad neolitem w dorzeczu Nidzicy. Kraków: Instytut Archeologii i Etnologii PAN.
Kruk J. and Przywara L. 1983. Roślinność potencjalna jako metoda rekonstrukcji naturalnych warunków rozwoju społeczności pradziejowych. Archeologia Polski 28(1), 19-50.
Kula W. 1963. Problemy i metody historii gospodarczej. Warszawa: PWN.
Kurnatowski S. 1963. Uwagi o kształtowaniu się stref zasiedlenia dorzecza Obry w czasie od środkowego okresu epoki brązu do późnego średniowiecza. Archeologia Polski 8, 181-221,
Kurnatowski S. 1966. Przemiany techniki uprawy roli w czasach między między epoką brązową i wczesnym średniowieczem a rozmieszczenie stref zasiedlania. Studia z Dziejów Gospodarstwa Wiejskiego 8, 92-99.
Machnik J. 2014. Miedzy pokoleniami. Jak Jaśko miast ułanem archeologiem został. Wywiad rzeka (Marzena Woźny). Rzeszów: Wydawnictwo Uniwersytetu Rzeszowskiego.
Machnik J. 2015. A Brief Response to S. Milisauskas. Sprawozdania Archeologiczne 67, 329-332.
Marsh G. P. 1865. Man and nature, or Physical geography as modified by human action. New York: Charles Scribner [Reprinted 1965, Harvard: Belknap Press].
Meadows D. H., Meadows D. L., Randers J. and Behrens W. W. 1972. The Limits to Growth: a Report to the Club of Rome's Project on the Predicament of Mankind. NewYork: Universe Books.
Milisauskas S. 2015. Myth Making by Jan Machnik: the American and Polish Cooperative Archaeological Project 1966-1978. Sprawozdania Archeologiczne 67, 315-327.
Milisauskas S. and Kruk J. 1984. Settlement Organization and the Appearance of Low Level Hierarchical Societies during the Neolithic in the Bronocice Microregion, Southeastern Poland. Germania 62(1), 1-30.
Ostoja-Zagórski J. 1988. Empiria i teoria w badaniach archeologicznych. Archeologia Polski 33(2), 247-272.
Reich-Ranicki M. 1999. Mein Leben. München: Deutscher Taschenbuch Verlag.
Simmons G. I. 1979. Ekologia zasobów naturalnych. Warszawa: PWN.
Vidal de la Blache P. 1903. Tableau géographique de la France. Paris: Hachette.
Vita-Finzi C. and Higgs E. S. 1970. Prehistoric Economy in the Mount Carmel Area of Palestine: Site Catchment Analysis. Proceedings of the Prehistoric Society 36, 1-37.
Walser M. 2002. Tod eines Kritikers. Frankfurt am Main: Suhrkamp Verlag.
Wiślański T. 1966. Próba zarysowania podstawowych form osadnictwa neolitycznego w Polsce północno-zachodniej. Archeologia Polski 10, 474-505.
Wiślański T. 1969. Podstawy gospodarcze plemion neolitycznych w Polsce północno-zachodniej. Wrocław: Ossolineum.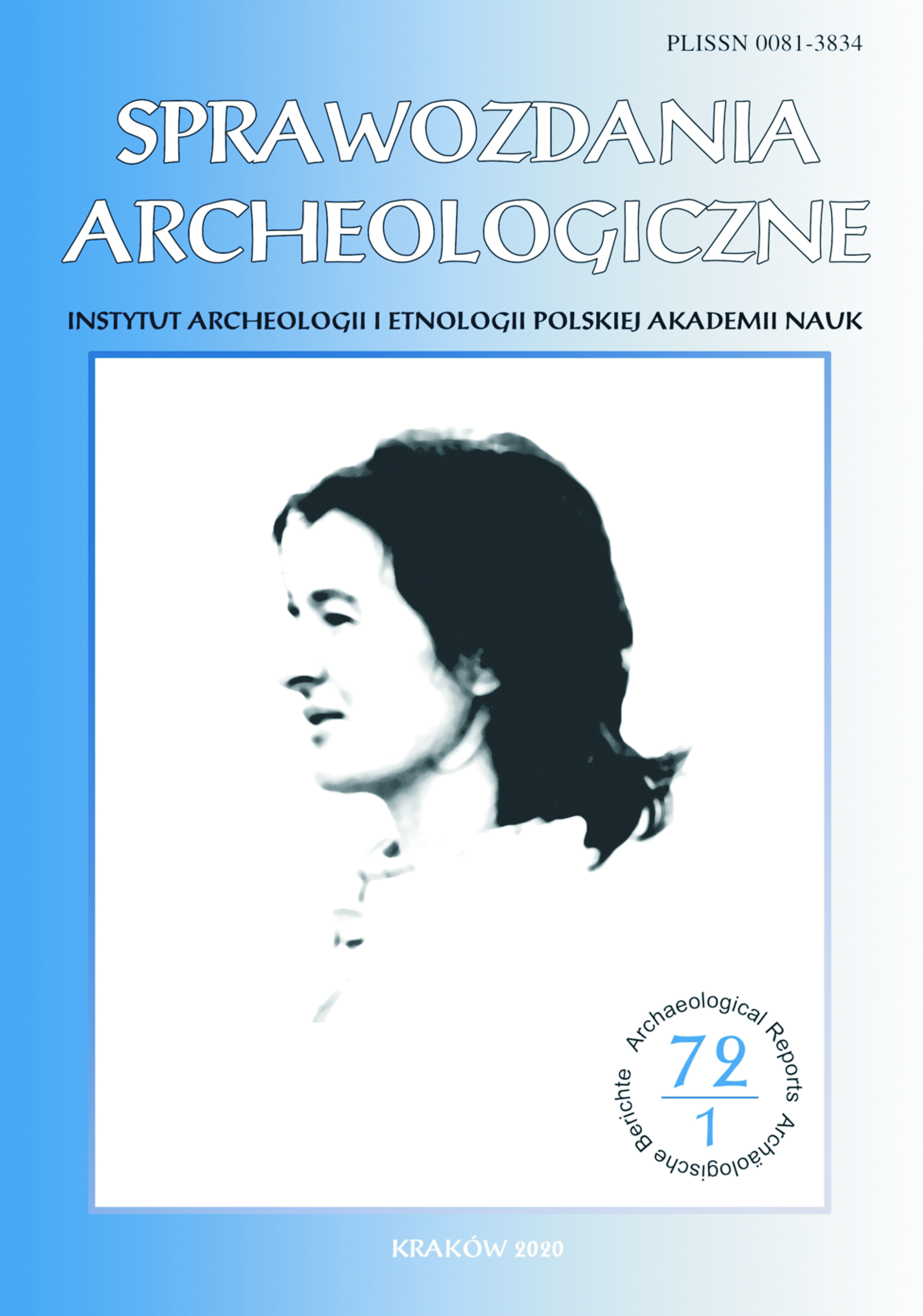 Downloads
How to Cite
Kadrow, S. R. (2020). Janusz Kruk's settlement archaeology: inspirations and determinants. Sprawozdania Archeologiczne, 72(1), 3`1–45. https://doi.org/10.23858/SA/72.2020.1.002
License
Copyright (c) 2020 Sprawozdania Archeologiczne
This work is licensed under a Creative Commons Attribution 4.0 International License.