Vol. 37 (2016): Ethnologia Polona: HIMALAYAN AND TIBETAN IDENTITIES IN CONTEMPORARY PERSPECTIVE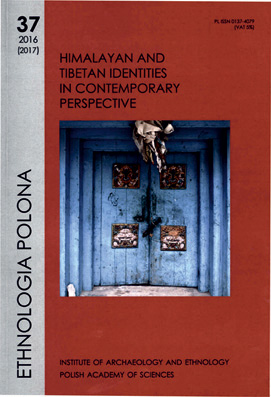 In the thematic section under the title "HIMALAYAN AND TIBETAN IDENTITIES IN CONTEMPORARY PERSPECTIVE" the editors present the several directions of Himalayan-Tibetan research conducted by scientists from Europe and India. In this volume of Ethnologia Polona, 4 Poles (Klafkowski, Bloch, Beszterda and Szymoszyn) together with Tsering Chorol from India, Gerald Kozicz from Austria and Bela Kelenyi from Hungary, publish articles on their own investigations in various zones and regions in Ladakh, Zanskar, Kinnaur, Lahul&Spiti and among Tibetan and Himalayan communities in India, Nepal and all over the world. A common thread running through these outcomes is the primary research being undertaken although their scope and specific interest is different. 
In the senction "New Projects, New Issues" there are 5 articles presented different aspects of anthropological research undertaken in Central and Far-East Asia (Ewa Nowicka with Ayur Zhanaev, and Lucjan Buchalik), and in Europe (Łukasz Kaczmarek and Magdalena Krysińska-Kałużna).
In the section "Book Review" Anna Engelking presents the book written by Grażyna Kubica and dedicated to Maria Czaplicka.