A Find of a Bronze Macehead from the Kraków-Częstochowa Upland in Poland
Keywords:
macehead, weaponry, late Middle Ages, Kraków-Częstochowa Upland, chemical analysis
Abstract
The Upper Silesian Museum in Bytom houses an interesting find of a macehead discovered in the Michałowiec nature reserve (commonly known as the Michałowiec/Michałówka Forest). The reserve is located on the northern slope of a large rise of terrain of the Kraków-Częstochowa Upland (Polish: Jura Krakowsko-Częstochowska) that shelves toward the River Biała Przemsza valley. Regrettably, the exact coordinates of the find location are not known, and only very imprecisely defined forest limits where the discovery was made were indicated. The artefact in question is a reasonably well-preserved macehead of the so-called star-shaped type. The macehead was cast in a pre-prepared mould using a non-ferrous metal alloy with a dominant share of Cu, Pb, and Sb. A comparative analysis of maceheads with finds from the territory of Hungary and south-eastern Europe, as well as a concentration of such finds along the southern and the eastern borders of Poland allow for a supposition that such artefacts could also come from this direction. On the other hand, it cannot be excluded that the find is of local manufacture. Concerning its chronology, on the basis of analogies a wide time frame between the 12th and the first half of the 14th century can be proposed. The territory of the Kraków-Częstochowa Upland is a landscape that since the early 14th century has been marked by numerous works of military architecture. These were the background of the defensive system of the border of the Kingdom of Poland. Therefore, a high number of warriors could be at least temporarily stationed in this area. This can perhaps offer grounds to rather accept a later (that is, the 14th century) chronology of the artefact. Such a date can also be implied by its chemical composition.
Downloads
Download data is not yet available.
References
Anderson G. C. 2012. The metallurgy of antimony. "Geochemistry" 72, Supplement 4, 3-8. DOI: https://doi.org/10.1016/j.chemer.2012.04.001
Bogdanowski J. 1964. Dawna linia obronna jury krakowsko-częstochowskiej: problemy konserwacji i adaptacji dla turystyki. "Ochrona Zabytków" 17(4)(67), 3-36.
Cabała J., Warchulski R., Rozmus D., Środek D., Szełęg E. 2020. Pb-Rich Slags, Minerals, and Pollution Resulted from a Medieval Ag-Pb Smelting and Mining Operation in the Silesian-Cracovian Region (Southern Poland). "Minerals" 10, 2-16. https://doi:10.3390/min10010028 DOI: https://doi.org/10.3390/min10010028
Cabała J., Janeczek J., Kowalczyk A. 2021. Ołów w środowisku. "Narracje o Zagładzie": Ołów/ołowica w kulturze i nauce. 147-223. DOI: https://doi.org/10.31261/NoZ.2021.DHC.09
D'Amato R. 2011. Σιδηροράβδιον, βαρδούκιον, ματζούκιον, κορύνη: The War-mace of Byzantium, 9th-15th c. AD. New Evidence from the Balkans in the Collection of the World Museum of Man, Florida. "Acta Militaria Mediaevalia" 7, 7-48.
Ettler V., Johan Z., Zavřel J., Wallisová M. S., Mihaljevič M., Šebek O. 2015. Slag Remains from the Na Slupi Site (Prague, Czech Republic): Evidence for Early Medieval Non-ferrous Metal Smelting. "Journal of Archaeological Science" 53, 72-83. DOI: https://doi.org/10.1016/j.jas.2014.10.007
Fǎrcaș A. O. 2016. Maces in Medieval Transylvania between the Thirteenth and Sixteenth Centuries. Budapest.
Głosek M. 1996. Późnośredniowieczna broń obuchowa w zbiorach polskich. Warszawa, Łódź.
Gurba J. 1997. Dwa zabytki brązowe z Czermna-Czerwienia. In: M. Głosek (ed.), Archeologia i Starożytnicy. Studia dedykowane Profesorowi A. Abramowiczowi w 70 rocznicę urodzin. Łódź, 65-70.
Garbacz-Klempka A., Głowa W. 2009. Ołów na średniowiecznym Rynku krakowskim. In: D. Rozmus, S. Witkowski (eds.), Gospodarka nad Przemszą i Brynicą od pradziejów do początków XX wieku w świetle badań interdyscyplinarnych. Dąbrowa Górnicza, Olkusz, Sosnowiec, 217-238.
Goździk B, Woch M.W. 2015. Historia górnictwa w regionie olkuskim. In: B. Goździk (ed.), Natural and Historical Values of the Olkusz Ore-bearing Region. Kraków, 37-41.
Herring D. 2018. Facts about the Elements: Antimony. "Industrial Heating". Available on-line: 10.10.2022: https://www.industrialheating.com/blogs/14-industrial-heating-experts-speak-blog/post/94603-facts-about-the-elements-antimony
Herčko I., Hronček P. 2010. Význam Ťažby a hutníctva antymonitu na Slovensku vo svetovom kontexte. In: J. Labuda (ed.), Európsky význam slovenského baníctva v stredoveku a novoveku. Zborník Prednášok 8-10.9.2010. Banská Štiavnica, 155-165.
Imiołczyk E., Kawka W. 2017. Rekonstrukcje przeszłości: Ślązacy pod Grunwaldem. Katalog wystawy. Bytom.
Jończy I., Chwedorowicz B., Kamińska M., Kowalski B. 2017. Wykorzystanie rentgenowskiej analizy spektralnej w mikroobszarach w oznaczaniu pierwiastków towarzyszących minerałom rud cynkowo-ołowiowych ze złoża Klucze I. "Górnictwo zrównoważonego rozwoju" 6, 79-92.
Kirpichnikov A. N. 1966. Kop'ya, sulitsy, boyevyye topory, bulavy, kisteni IX-XIII vv. Drevnerusskoye oruzhiye 2. Arkheologiya SSSR. Svod arkheologicheskikh istochnikov Vyp. E1-36. Moskva, Leningrad.
Klochko I. V., Manichev V. I., Kompanc G. S., Kovalchuk S. M. 2002. Wychodnie rud miedzi na terenie Ukrainy zachodniej jako baza surowcowa metalurgii kolorowej w okresie funkcjonowania kultury trypolskiej. "Folia Praehistorica Posnaniensia" 10/11, 47-78. DOI: https://doi.org/10.14746/fpp.2003.10.03
Kovacs L. 1971. A Magyar Nemzeti Múzeum Fegyvertárának XI–XIV. Sźázadi csillag alakú buzogányai. "Folia Archeologica" 22, 165-181.
Kowalski Ł., Adamczak K., Garbacz-Klempka A. 2009. Back to the Eneolithic: Exploring the Rudki-type Ornaments from Poland. "Archaeological and Anthropological Science" 11, 4355-4377. DOI: https://doi.org/10.1007/s12520-019-00825-4
Kuśnierz J. 2003. Militaria z badań archeologicznych latopisowego grodu Czerwienia. "Αpхеологія Тернопільщини" / "Arkheolohiya Ternopilʹshchyny", 215-229.
Kúšik D. 2015. History of Mining at the Territory of Slovakia. "Slovak Geological Magazine" 15(2), 5-20.
Kuzov H. / Кузов Х. 2002. Бoздугани от Варненския Археологически Музей. In: Оръжие и снаряжение през кыснaта античност и срдновиековето IV- XV в. / Bozdugani ot Varnenskiya Arkheologicheski Muzeĭ. In: Orŭzhie i snaryazhenie prez kysnata antichnost i srdnoviekoveto IV-XV v. Acta Musei Varnaensis 1, 174-185.
Liwoch R. 2006. Buławy z zachodniej Ukrainy. "Acta Militaria Mediaevalia" 2, 67-78.
Liwoch R. 2016. Węgierska buława z Librantowej. In: B. Chudzińska, M. Wojenka (eds.), Od Bachórza do Światowida ze Zbrucza. Tworzenie się słowiańskiej Europy w ujęciu źródłoznawczym. Księga jubileuszowa Profesora Michała Parczewskiego. Rzeszów, 675-679.
Marciniak J. 1933. Tymczasowe wyniki badań przeprowadzonych na cmentarzysku wczesnohistorycznem w Strzemieszycach Wielkich, w powiecie będzińskim. "Przegląd Archeologiczny" 4(3), 238-241.
Marek L., Miazga B. 2012. Średniowieczna buława z okolic Wrocławia. "Śląskie Sprawozdania Archeologiczne" 54, 367-375.
Michalak A. 2005. Głowica buławy z Trzciela, pow. Międzyrzecz. Wstępne uwagi w kwestii występowania buław na ziemiach polskich w średniowieczu na tle znalezisk europejskich. "Archeologia Środkowego Nadodrza" 4, 183-220.
Michalak A. 2006. Wpływy wschodnie czy południowe? Z badań nad pochodzeniem buław średniowiecznych na ziemiach polskich. "Висник Нацiональногo Университету "Львивскъка Политехника" / "Visnik Natsional'nogo Universitetu L'vivsk"ka Politekhnika" 571, 48-74.
Michalak A. 2011. A 14-th Century Hungarian Knobbed Mace Head from the Birów Mountain in Podzamcze in the Polish Jura Chain. In: P. Kucypera, P. Pudło (eds.), Cum Arma Per Aeva, Uzbrojenie indywidualne na przestrzeni dziejów. Toruń, 173-200.
Michalak A. 2019. Arma confinii. Przemiany późnośredniowiecznej broni na rubieżach Śląska, Wielkopolski, Brandenburgii i Łużyc. Zielona Góra.
Mikulski S. Z., Oszczepalski S., Sadłowska K., Chmielewski A., Małek R. 2020. Trace Element Distributions in the Zn-Pb (Mississippi Valley-Type) and Cu-Ag (Kupferschiefer) Sediment-Hosted Deposits in Poland. "Minerals" 10(75), 1-47. DOI: https://doi.org/10.3390/min10010075
Molenda D. 1978. Dzieje Olkusza do 1795 roku. In: T. Kołodziejczyk (ed.), Dzieje Olkusza 1. Warszawa, 147-340.
Molenda D. 1989. Eksploatacja rud miedzi i handle miedzią w Polsce w późnym średniowieczu i początkach nowożytności (do 1795 r.). "Przegląd Historyczny" 80(4), 801-814.
Muzolf B. 1998. Badania na Górze Birów w Podzamczu, województwo katowickie. "Badania archeologiczne na Górnym Śląsku i ziemiach pogranicznych w 1995 roku", 114-117.
Nowakowski A. 1972. Górne Pobuże w wiekach VIII-XI. Zagadnienia kultury. Łódź.
Rajman J. 1998. Pogranicze śląsko-małopolskie w średniowieczu. Kraków.
Rozmus D. 2013. Konsekwencje istnienia wczesnośredniowiecznej metalurgii srebra i ołowiu na obszarach obecnego pogranicza Śląska i Małopolski. In: P. Boroń (ed.), Argenti fossores et alii. Wrocław, 261-272.
Rozmus D. 2014. Wczesnośredniowieczne zagłębie hutnictwa srebra i ołowiu na obszarach obecnego pogranicza Śląska i Małopolski(druga połowa XI–XII/XIII wiek). Kraków.
Rudzińska M., Garbacz-Klempka A., Dyga A., Liwoch R. 2013. Nieniszczące badania średniowiecznej buławy. "Archives of Foundry Engineering" 13(3), 139-142.
Surowska B. 2002. Wybrane zagadnienia z korozji i ochrony przed korozją. Lublin.
Strzyż P. 2005. Ruskie buławy "gwiaździste" z terenu Małopolski. "Acta Militaria Mediaevalia" 1, 107-114.
Strzyż P. 2006. Uzbrojenie we wczesnośredniowiecznej Małopolsce. Acta Archaeologica Lodziensia 52. Łódź.
Strzyż P. 2011. Średniowieczna broń palna w Polsce. Studium archeologiczne. Łódź.
Tomášek K. 2017. Zaniknuté hutnícke technológie neželaznŷch kovov na slovensku. "Hutnícke listy" 67-69, 6-37.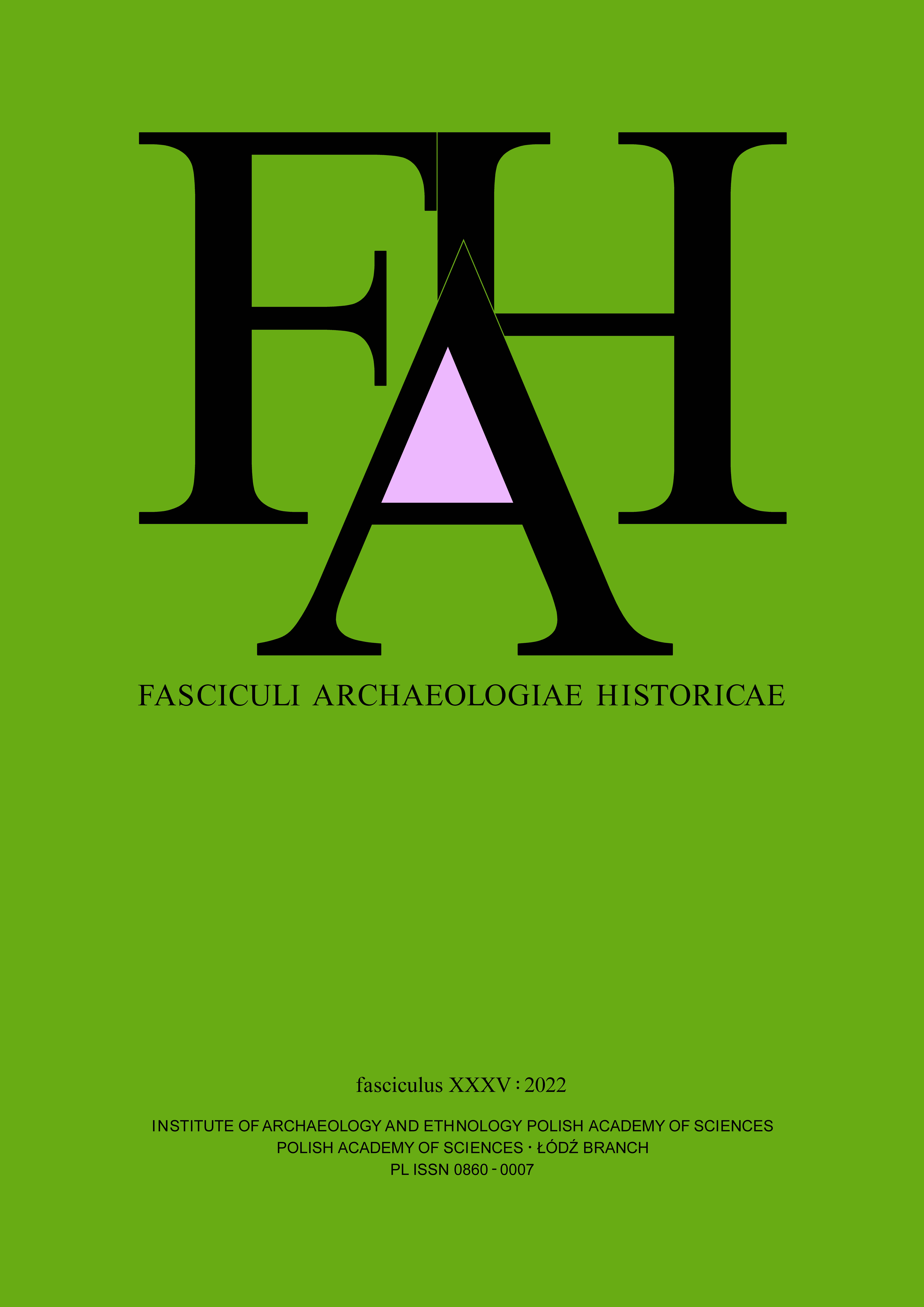 Downloads
How to Cite
Imiołczyk, E., & Zdaniewicz, R. (2022). A Find of a Bronze Macehead from the Kraków-Częstochowa Upland in Poland. Fasciculi Archaeologiae Historicae, 35, 147–159. https://doi.org/10.23858/FAH35.2022.010
Section
Materials and Discoveries
License
Copyright (c) 2022 Fasciculi Archaeologiae Historicae
This work is licensed under a Creative Commons Attribution 4.0 International License.