Vol. 38 (2017): Ethnologia Polona: MATERIAL, POLITICAL AND POSTSECULAR DIMENSIONS OF POLISH CATHOLICISM. AN ANTHROPOLOGICAL PERSPECTIVE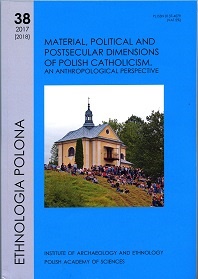 Volume 38:2017 (2018) of  "Ethnologia Polona" is dedicated to the anthropology of religion. The set of works featured in this issue in the thematic part of the volume presents the most recent anthropological insights into Catholicism – a complex and varied phenomenon, which has proved fascinating for the researchers, as is apparent from this collection. There are 7 articles on this issue (written by Kamila Baraniecka-Olszewska, Magdalena Lubańska, Adrianna Biernacka, Przemysław Gnyszka, Monika Golonka-Czajkowska and Mathew N. Schmalz). The focus was on showing the multidimensionality of Catholicism and its many faces, especially on the fact that this denomination has not yet been sufficiently researched by anthropologists. The authors used the study of Polish Catholicism, which is incorrectly deemed homogeneous, as a starting point for outlining the directions of reflecting upon the creed and the multitude of possible approaches to interpreting it. 
In the section "New Issues, New Projects" the editor presents 6 articles on different aspects of ethnology and cultural anthropology, most of them based on ethnographic fieldworks: reception of media in Poland (Anna Malewska-Szałygin), migration studies  - Poles in Western Europe (Aleksander Posern-Zieliński), language identity in Bielarus (Katarzyna Waszczyńska), anthropology in Kyrgyzstan (Anna Horolets), Chinese family studies (Wang Yun), and research on Indian rituals (Seema Bawa). 
In the section "Book review" Dominika Czarnecka presents the book published by Kamila Baraniecka-Olszewska in 2018.