Miasto w ogniu: ludzkie tragedie i zachowania rynkowe w Londynie XVIII wieku
Paweł T. Dobrowolski

Collegium Civitas, plac Defilad 1, 00-901 Warszawa
Słowa kluczowe:
Londyn, miesięczniki, pożary, XVIII w., innowacje, ubezpieczenia
Abstrakt
Dopiero w 1832 r. powołano w Londynie pierwszą, zawodową jednostkę straży pożarnej. Przez cały XVIII w. opierano się w tym zakresie na amatorskich drużynach organizujących ochotników w ramach parafii. Nie był to jednak sprawny system. Pod tym względem Londyn ustępował wyraźnie Paryżowi, a nawet amerykańskim miastom m.in. Bostonowi. Londyńskie miesięczniki z XVIII w. zostały wykorzystane do ukazania znaczenia miejskich pożarów, opisując zarówno same zdarzenia jak i wysiłki zmierzające do ograniczenia szkód. Chociaż nie sposób na ich podstawie ująć zjawisko statystycznie, to lektura wskazuje, że pożary postrzegano jako katastrofę, często będącą rezultatem niepotrzebnego ryzyka, ale i jako ostrzeżenie. W erze wynalazków Newcomena i Watta, w typowej dla epoki atmosferze naukowego uniesienia na stronach londyńskich miesięczników odbijała się także trwająca debata nad doświadczeniami oraz ulepszeniami technologicznymi, takimi jak wozy strażackie i pompy wodne, które wdrażano do użytku by zapobiegać rozprzestrzenianiu się ognia oraz by ograniczyć skalę zniszczeń. Wreszcie, kolejnym skutkiem częstych pożarów był gwałtowny rozwój towarzystw ubezpieczeniowych, gotowych do ubezpieczenia zagrożonego ogniem mienia i potrafiących wykorzystać tę groźbę by rozszerzyć własną działalność. Dokumentacja tych firm daje również wyjątkowy wgląd w sytuację finansową i pozycję społeczną londyńczyków.
Downloads
Download data is not yet available.
Bibliografia
Beckett J.V.1977. Doctor William Brownrigg, FRS: Phisician, Chemist and Country Gentleman. Notes & Records of the Royal Society of London.
Carp B.L. 2001. Fire of Liberty: Firefighters, Urban Voluntary Culture, and the Revolutionary Movement. William & Mary Quarterly 3rd ser. 58, s. 781-818.
Cressy D. 1989. Bonfires and Bells: National Memory and the Protestant Calendar in Elizabethan and Stuart England. University of California Press, Berkeley.
Crowley J.E. 1991. Artificial Illumination and the Definition of Domestic Space and Time in Early America In: B.Karsky E.Marienstras (eds.) Travail et loisir dans les societes pre-industrialles. Nancy.
Davis B.H. 1982. Thomas Percy, the Reynolds Portrait, and the Northcumberland House Fire, The Review of English Studies new ser., 33/129, s. 23-33.
Dąbrowska M. 2008. Ogrzewanie wnętrz mieszkalnych w średniowieczu i czasach nowożytnych. Kwartalnik KHM 56|(3-4), s. 305-325.
Delumeau J. 1986. Strach w Kulturze Zachodu, XIV-XVIII w.. IW PAX.Warszawa.
Edgerton S. Y. 1961. Heat and Style: Eighteenieth-Century House Warming by Stove. Journal of the Society of Architectural Historians 20(1), s. 20-26.
Einberg E. 1977. Richard Wilson's Earliest Dated Painting: The Story of a Dreadful Calamity. The Burlington Magazine 119/891, s. 436-441.
Garnot B. 1991. Quantitatif ou qualitatif? Les incendiaries au XVIIIe siecle. Revue historique 286, s. 43-52.
Golinski J. V. 1989. A Noble Spectacle: Phosphorus and the Public Cultures of Science in the Early Royal Society. Isis 80/1,:s. 11-39.
Hausman, W.J. 1980. A Model of London Coal Trade in the Eighteenth Century. Quarterly Journal of Economics 94,s. 1-14.
Kanefsky J. Robey J. 1980. Steam Engines in the 18th Century Britain: A Qualitative Assessment. Technology & Culture 21/2,s. 161-186.
Kirkham P. A. 1969. Samuel Norman: A Study of an Eighteenth-Century Craftsman. The Burlington Magazine 111.
MacDonald M. 1988. Suicide and the Rise of the Popular Press in England. Representations 22.
Manikowska. H. 1993. Nadzór i Represja. Władza i Społeczeństwo w późnośredniowiecznej Florencji.Warszawa.
Moore. J. E. 1998. The Monument or, Christopher Wren's Roman Ascent. The Art Bulletin 80/3, s. 498-533
Morton A. Q. 1995. Concepts of Power: Natural Philosophy and the uses of Machines in Mid-Eighteenth Century London. The British Journal for the History of Science 28/1.
Mulcahy, M. 1996. The "Great Fire" of 1740 and the Politics of Disaster Relief in Colonial Charleston. South Carolina Historical Magazine 99,s. 135-157.
Oates W. E. Schwab, R. M. 2015. The Window Tax: A Case Study in Excess Burden. The Journal of Economic Perspectives 29/1,s. 163-179.
Pearson R. 2002. Moral Hazard and the Assessment of Insurance Risk in Eighteenth and Early-Nineteenth Century Britain. The Business History Review 76/1.
Pearson R. 2004. Insuring the Industrial Revolution: Fire Insurance in Great Britain 1700-1850. Asgate Publishing, Burlington.
Parkinson E. 2008. The Establishment of the Hearth Tax, 1662-66, List & Index Society, Kew.
Pencak W. 1979. The Social Structure of Revolutionary Boston: Evidence from the Great Fire of 1760. The Journal of Interdisciplinary History 10 ,s. 267-278.
Post, J.D. 1984. Climatic Variability and the European Mortality Wave in the Early 1740s. Journal of Interdisciplinary History 15, s. 1-30.
Price C. 1989. Italian Opera and Arson in Late Eighteenth-Century London. Journal of the American Musicological Society 42.
Price C. Milhous J. Hume R. D. 1991. The Rebuilding of King's Theatre, Haymarket, 1789-1791. Theatre Journal 43/4, s. 421-444.
Robinson E.H. 1974. The Early Diffusion of Steam Engine. The Journal of Economic History 34, s. 91-107.
Rothman P. 2000. By " the light of his own mind": the Story of James Ferguson, Astronomer. Notes & Records of the Royal Society of London 54, s. 33-45.
Schwarz, L.D Jones L.T. Wealth. 1983. Occupations, and Insurance in Late Eighteenth Century: The Policy Registers of the Sun Fire Office. The Economic History Review, newser 36/3,s. 365-373.
Scott, M. 1963. Sufferers in the Charleston Fire of 1740. South Carolina Historical Magazie 64, s. 201-211.
Spufford M. 2001. The Scope of Local History, and the Potential of the Hearth Tax Returns, British Association for Local History, Salisbury.
Ulicki, B. 2016. Technika w obronie przed pożarami dawnej Warszawy. Kwartalnik Historii Kultury Materialnej 54(1), s.59-83.
Ville S. 1986. Total Factor Productivity in the English Shipping Industry: the North-East Coal Trade. The Economic History Review , new ser., 39/3.
Vickery A. 2008. An Enlishman's Home Is His Castle? Thresholds, Boundaries, and Privacies in the Eighteenth-Century London House. Past & Present 199.
White J. 2012. London in the 18th Century: A Great and Monstrouos Thing, Vintage Books, London.
Whitehead L. Nix J. 2002. Keyboard Instrument Building in London and the Sun Insurance Records, 1775-87. Early Music 30/1,s. 4-25.
Winton D. 1974. A French Traveller's View of Handel's Operas. Music and Letters 55/2.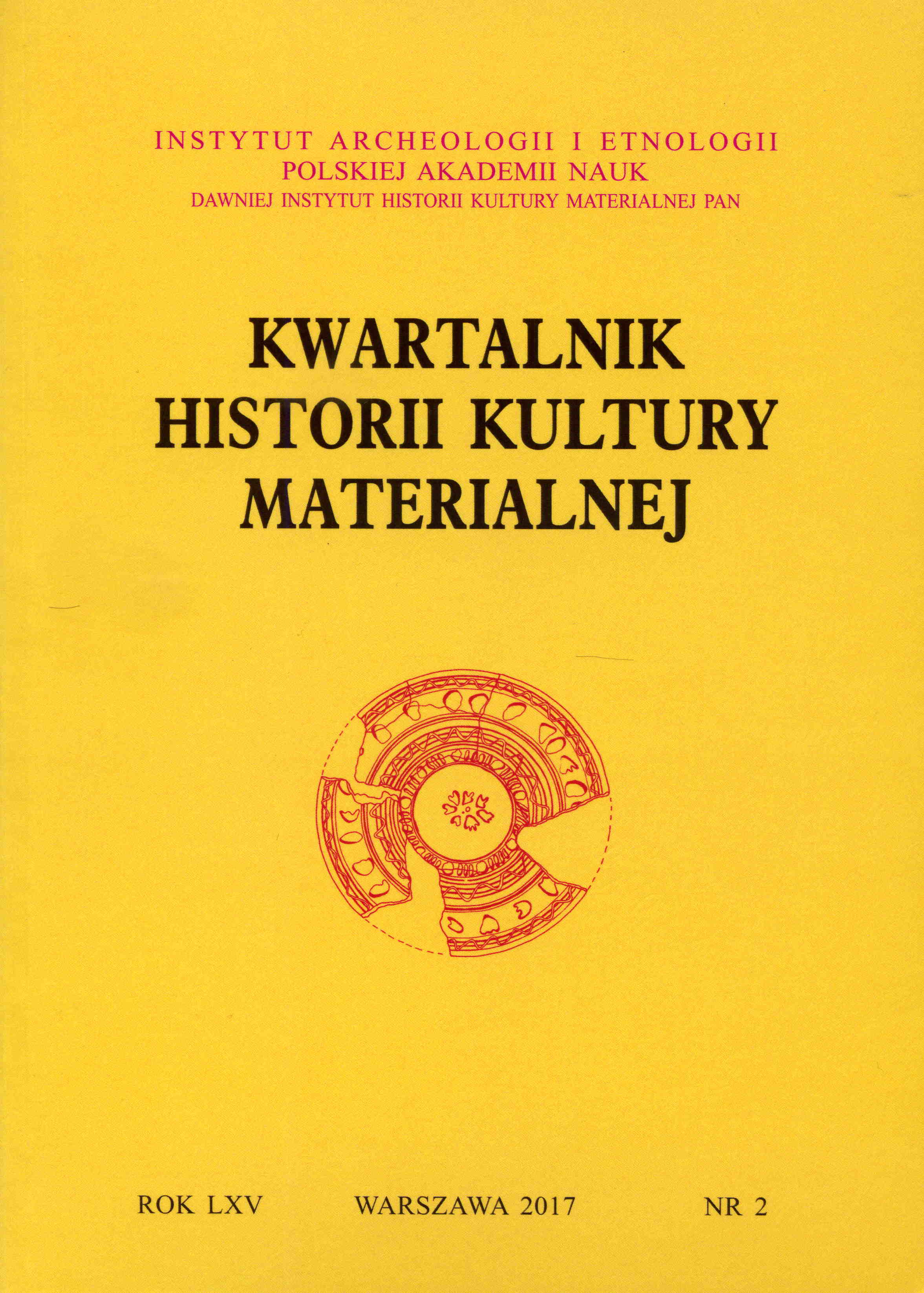 Jak cytować
Dobrowolski, P. T. (2017). Miasto w ogniu: ludzkie tragedie i zachowania rynkowe w Londynie XVIII wieku. Kwartalnik Historii Kultury Materialnej, 65(2), 221-237. Pobrano z https://journals.iaepan.pl/khkm/article/view/956
Utwór dostępny jest na licencji Creative Commons Uznanie autorstwa – Użycie niekomercyjne – Bez utworów zależnych 4.0 Międzynarodowe.